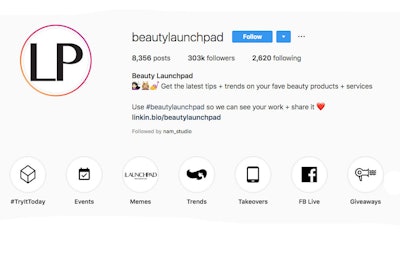 An Instagram bio is akin to an elevator pitch: It must be short, sweet and snappy enough to engross viewers, compelling them to click on photos, view Story Highlights, or otherwise deep-dive into your page. Here, tips and tricks for how to write a winning IG intro.
Do Your Homework
"Research successful hair pages before building your own professional IG portfolio," advises Brittan Carver (24K IG followers), stylist at Uncaged Salon & Spa in Coast Mesa, California. "Study the basics of how others worded their bios, including info they chose to feature plus characteristics that make a page pop." The pro suggests drawing inspiration from related sites that aren't hair-specific, like fashion, beauty and home decor. Still in doubt? Master the basics via a marketing or web-studies course. Carver recommends The Business of Balayage, which offers an online class for stylists just starting in social media.
RELATED: Facebook Marketing Tips from Social Media Strategist Kelly Ehlers
Size Matters
"Think of IG bios like speed dating," laughs Erin Hriczak (15K IG followers), stylist at Lighten Up Salon & Spa in Budd Lake, New Jersey. "You have a moment of someone's attention to prove your content is compatible with their feeds." Instagram allows for 150 characters in your bio that should highlight your place of employment, contact info and particular area of expertise. Secondary elements may include tagged product-line sponsorships or education connections. "Steer clear of controversial topics or language; choose other online platforms for expressing those opinions," urges Hriczak. Carver follows this good rule of thumb: Nix material you'd hesitate to include on a résumé.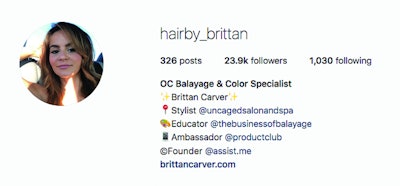 Express Yourself
Emojis are a fun way to enhance info while infusing a splash of personality. " they further come in handy for saving characters," says Hriczak. Use the scissors symbol instead of writing "haircut," the paint palette in lieu of "artist" or the open book followed by a publication's name to show where your work can be found. Carver offers one note of caution: "Don't go overboard with excessive emoji usage that can clutter a page or otherwise detract from your intended message." 
RELATED: How to Gain Clients by Implementing a Creative Content Marketing Strategy
Link Up
You're allowed a single link, so Carver suggests first pondering its purpose. Are you hoping to drive clients to your website? Get them subscribed to a blog? Inspire them to watch a product promo video? " The link can be utilized in various ways, then later changed according to need," Carver explains. For those already taking advantage of "Call" and "Email" buttons, Hriczak advises linking to a salon's web page or booking software. "Currently my link goes to event pages for upcoming classes I'll be teaching, but occasionally I share contest voting or an article where I've been featured," she says.
Once Upon a Time
How to best use IG Story Highlights.
One of the newer static features for your IG page, Story Highlights sits right below your bio, but before your grid, making it a highly valuable piece of digital real estate. Here, some pointers on how to best utilize this feature.
Since Story Highlights Covers live on your IG page, you'll want to make sure their aesthetic speaks to your brand. Use apps like Canva, which selects clip art tailored for each category. Go pro by using a universal filter on every Cover.
"Assemble Highlights like a short film," proposes Erin Hriczak. "Clips of top photos and videos introduce you to a visitor."
Connect with audiences by displaying glimpses of life outside the salon. "I feature my dog Maverick, since I chat with clients about our fur babies," Brittan Carver reports.
Be selective when creating categories. Think: one for stellar work, one for client info and one for a personal-life peek.
This story first appeared in the March issue of Beauty Launchpad magazine. To receive the magazine, click here to subscribe.
[Images: Instagram]