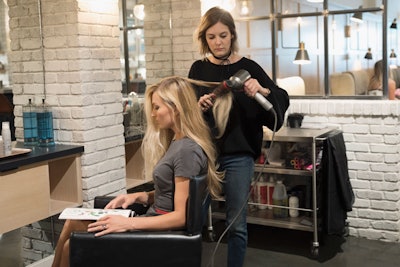 For most stylists, a blowdryer is an extension of their hand and a straightening iron could be a third appendage. It's no secret that hair masters have tight relationships with their thermal tools—but do you truly know everything about these hot helpers?
1) Advanced Stance
Sadly, your heat tools don't maneuver themselves. Proper body positioning can mean the difference between a long, strong career and one cut short by aches and ailments. "I used to leave the salon with lower back pain, completely drained of energy," laments Rafe Hardy, Sexy Hair artistic director. "It was affecting my quality of life, and I realized I had to change the way I stand and move while working."
His methodology starts by shifting focus to the strongest body part: our legs. Widen your stance, keeping feet shoulder- width apart, and unlock those knees. The control side of your body—that which handles hair—should tilt toward the client at a comfortable 45 degrees. That saves necks from thrusting forward, which can strain muscles and cause chronic back pain. "Imagine how a boxer stands—ready yet relaxed," Hardy suggests. "This is basically an athletic posture, like one held when playing tennis or practicing tai chi."
Rotator cuffs are among the most injury-prone body sites for stylists, due to continuous arm elevations performed when drying strands. But there's an easy fix: "Drop your elbows to save your shoulders, and remember that the chair itself can be lowered instead," Hardy instructs. Holding a dryer at the handle rather than the nozzle puts control back in your fingers, keeping movement off the wrists to combat carpal tunnel. "An incredible thing about the human body is that once it experiences comfort, it wants to return there automatically," he says. Practicing correct posture while remaining body-conscious will eventually lead to automatic proper positioning. Notes Hardy, "You only have one body, so take care of it."
2) Man Made
As men's hairstyles evolve in complexity, their owners grow increasingly comfortable using an array of products on their pomps and quiffs. Yet for many men, the blowdryer remains taboo. Some male clients fear what they don't understand; others associate blow-drying with their mothers, wives or girlfriends. Regardless of the reason, it's undeniable that numerous men's styles would benefit from a finish with this thermal tool. "With some male clients, I like to employ terms that evoke a sense of masculinity, such as strong, clean, tailored," informs Tonya Hanna, American Crew national education manager. "Conversation next revolves around his unique perspective: While women can be impulse shoppers, a man typically buys something because he needs it." Hanna recommends this five-step process for succeeding with a blow-dry-shy guy:
RELATED: Stylist Gina Bianca's Tips for Avoiding Industry and Salon Burnout
What: Demystify the tool itself. A quick tutorial on how to use a dryer can help assuage anxieties.
Why: Detail the reasons why using a dryer makes the most logical sense on this occasion, for this specific hair type.
How: After you tell, show. "Place it in his hands for added ownership," Hanna suggests.
Personal Touch: Share a quick, personal anecdote about your reason for loving blowdryers.
Expert Advice: Speak with knowledge and authority about what you're recommending. Says Hanna, "Men often look for the expert when making a buying decision, and in this case, that's you!"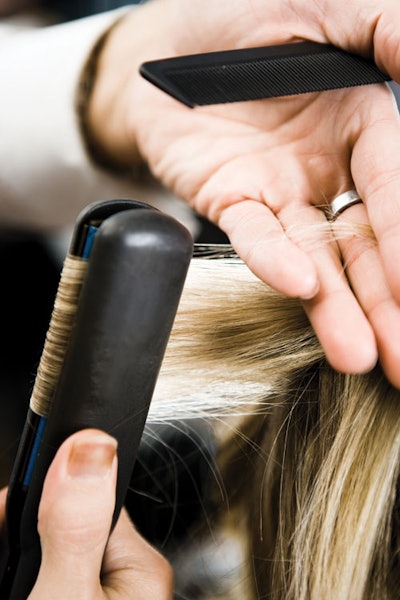 3) Too Hot to Handle
The hair on our heads can sustain higher heat levels than skin or any other body part, but it's by no means unbreakable. For this reason alone, clients need your advice on how to practice care when using at-home thermal tools. Many curling and flat irons come with settings that spike to 450°F, but Eufora style director Mirza Batanovic advises that oftentimes, less is best for at-home use. "Suggest that clients leave high levels of heat to the pros, because we do fast, even passes over hair to prevent frying," he explains. Here's a good rule of thumb: The finer a client's hair texture and the lighter it is in color, the lower heat she should employ. When having the discussion, you can draw parallels your clients will understand, such as: Follicles are like fabric. One wouldn't iron silk— aka, fine strands—on the same heat setting as cotton, equivalent here to thicker locks.
RELATED: Beauty and Salon Professionals Share Their Secrets to Success
Think of 360°F as a general Goldilocks temperature: not too hot (sizzled frizz), but not too cold (zero change in texture). Coarse hair can take a bit more heat, but "fine hair has fewer protective built-in layers, so it should always be treated with less warmth," says Batanovic— aim for 300°F. Blonde highlights like 250°F, while platinum hair gets ironed at 180°F max. "The more heat used on any cosmetic color, the faster the dye will fade," Batanovic reminds.
Thermal protectants are an essential first step, yet clients often overlook them because they feel overwhelmed when selecting the correct spray in a market saturated with elixir options. "Urge clients to consult their stylist—you—who spends time learning about the ingredients in products and how they both defend and restore hair," suggests Batanovic.
4) Curlicue Drying Do's
"Transforming curly coils into a silky, smooth look can feel overwhelming," says Paula Peralta, John Paul Mitchell Systems international trainer. These six steps take the guesswork out of wrangling ringlets.
Start in the wash. Peralta first uses clarifying shampoo to purge buildup, followed by a second moisturizing wash. "I leave in a dollop of conditioner, which helps with smoothing, but also weight," reveals colorist and Matrix stylist Ursula Goff. "Dense, coarse hair often needs heavier product to tame."
Skip the rub. Blot and scrunch wet curly hair with a towel. "Rubbing can rough up cuticles, which can contribute to frizz," notes Goff.
Get product savvy. Goff next adds argan oil from mid-lengths to ends to penetrate shafts for deeper moisture. "Use more product when styling curly hair curly, and less when blow-drying curly hair straight," Peralta directs.
Create a road map. Break up hair into horizontal sections, beginning at the bottom. "The denser the hair, the smaller the sections need to be for effective smoothing," says Goff. This further saves stylists from becoming stressed and missing spots. "I braid hair within subsections to start the process of stretching the curl formation," adds Peralta.
RELATED: How to Effectively Boost Business by Selling Aftercare Products
Brush better. Dry half-inch sections at a time, using a three-inch round brush for long hair, or a two-inch round brush for shorter locks. "Wind strands firmly around bristles to create the tension needed to straighten effectively," instructs Goff. A round brush further helps maintain shape and volume for those who don't want hair to lay super flat and straight.
Seal the deal. Keep air going in a single direction— root to tip—to nix frizz and smooth cuticles. "Finish with a lightweight shine spray or a favorite product that locks the style in place," concludes Peralta.
5) Pump it Up
Infusing body into fine hair requires extensive prep work. "All thin strands are not created equal, so you must first identify what's missing," says Tim Dueñas, independent educator and stylist at West Hollywood, California's Nine Zero One salon. Is hair dry? Wash with a daily shampoo, followed by moisturizing conditioner. Is it frizzy due to overprocessing or dye treatment? Use a color-safe shampoo plus protein-based conditioner. It's good practice to mix products and avoid heavy shampoos that steal volume. "There's no single magic item to fix all ailments," laughs Dueñas. "Look at what's lacking, then fill in the blanks."
Layering follows. The pro starts with a lightweight leave-in as his moisturizer, over which he adds a grip product for hold, working roots to ends for max control. Finally it's time to dry—but keep this step simple, as fine hair is easily overworked. "I use my hands for a majority of the blowout," conveys Dueñas. "When hair is approximately 85-percent done, I work in more grip." Straight strands benefit from a flat mixed-bristle brush; curls like rounded brushes. "For most fine hair, I use a brush one size smaller than I think I need in order to impart extra shape," he adds.
Ironwork is routinely expected in today's salon world, and Dueñas avoids sprays prior to straightening because he believes they can hamper movement. "Start by pressing a little volume in the regrowth area off the scalp to help lock in lift," he directs. "Skip the mid-shafts of the hair and smooth only the ends for a look that's straight but not too flat." Build oomph with a curling wand by holding it horizontally and alternating the direction of the spirals, toward and away from the face. "Finish with a volumizing powder at the roots and a lightweight dry oil or whipped pomade on the ends," says Dueñas.
–by R.D. Moon
This story first appeared in the February issue of Beauty Launchpad magazine. To receive the magazine, click here to subscribe.
[Images: Getty Images]