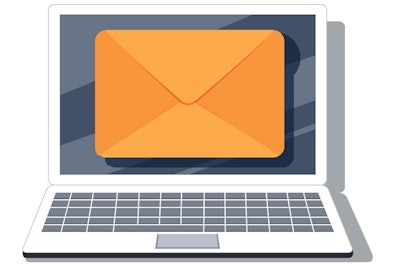 Social media may be important, but it's not the only means of connecting with clients. Tried-and-true methods, like email newsletters, can give you just as much—and sometimes more—return on investment. Robert Cromeans, John Paul Mitchell Systems salon owner, artist and educator, and Jim Bower, founder of Rosy Salon Software and SalonInteractive and former salon and spa owner, discuss the keys to creating effective newsletters.
Engaging Headlines: When email boxes are filled to the brim, "you have got to stop people in their tracks. You've only got a few seconds to capture them," says Cromeans. Do away with generic, sales-y jargon and instead engage in smart wordplay for your e-newsletter subject lines. Subject headlines that spark interest should have enough flair to attract eyeballs and encourage clicks.
Clickable Content: Both experts caution against too much selling. A newsletter isn't an e-blast (a single ad sent via email), cautions Bower. Rather, the goal of a newsletter is to inform and inspire—think: at-home care tips, easy how- tos, trend advice, and more. When clients trust you and your expertise, they're more likely to follow your recommendations, take you up on your promotions and ultimately make their way back to your chair.
RELATED: Streamline Operations with the Latest Salon Management Software
Compelling Promotions: E-newsletters serve as an effective vehicle for promotions, but again, avoid a hard sales pitch. Bower believes promotions within e-newsletters should be a "softer sell delivered with credibility," not a solid wall of ads for products and services. For instance, to promote a new haircolor technique, feature an accompanying image of the service on a client or model, offering tips on the trend and its advantages. Then, close with a mention of the promo and a call to action.
Cromeans focuses e-newsletter promos on the experiential aspects of what he's offering, which he says encourages clients to see the value of the service. The goal is to expose clients to more new "experiences"—say, a free haircut experience with a color treatment. "It's not always about upgrading the ticket; sometimes it's just about building loyalty," he explains.
Tasteful Imagery: "Photos draw a lot of attention and can make a newsletter come to life," says Bower, pointing out that imagery appeals to some people more than the written word does. He proposes a larger image for each newsletter article or a small cluster of images to highlight a specific event.
Simple Tone: Cromeans values authenticity and advises to keep it simple and straightforward, but meaningful and on-brand. Though you are an authority, resist the temptation to throw too much pro talk at your clients. "Newsletters from salons are most effective when they communicate on a personal level," says Bower. He advocates for a conversational tone so clients feel they're getting personalized advice from a trusted expert.
Appropriate Frequency: Too many e-newsletters can feel spam-y, which is a quick way to land you on clients' "blocked" list. Bower suggests sending a newsletter no more than once a month—but also recommends starting off quarterly in order to become comfortable with the amount of work required to produce them. Cromeans bases his timing on a typical customer cycle, sending out content about once every two months.
RELATED: Beauty and Salon Professionals Share Their Secrets to Success
Three Newsletter Do's
Jim Bower offers simple advice to ensure you produce quality e-newsletters.
1) Use a template to design your mailings so they look consistent and professional.
2) Get your best sta writer to create them—or outsource the job.
3) Proofread everything twice before hitting "send." Nothing ruins the credibility of a newsletter faster than bad grammar and spelling errors.
–by Tammy Kaehler
This story first appeared in the February issue of Beauty Launchpad magazine. To receive the magazine, click here to subscribe.
[Images: Getty Images]