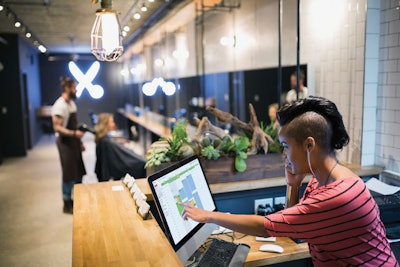 Maximize your moneymaking potential and foster closer client relations with the latest high-tech salon management software.
Besieged salon owners, breathe a sigh of relief—today's salon software is designed to do the lion's share of heavy lifting for you. From improving efficiency and connecting with clients to cutting costs and hiking profits, the benefits of going digital are too seductive to ignore. "I can't imagine running a salon without a strong software system; it makes us so much more organized and efficient," asserts Lois Christie, president and haircolor director at Christie & Co. Salon & Spa in Bayside, New York. "And for any salon that isn't currently using software, you can start slow—focus on one area at a time if it seems overwhelming."
Luckily, there are a slew of areas in which salon software can help. Here, savvy salon pros dish on the many ways you can tap the latest technology to ensure a well-oiled business machine.
Good Timing
David Arnold, owner of Salon Lujon in Fullerton, California, wears many hats— operator, marketer, team leader—but software slashes time requirements for mundane tasks, thanks to features like integrated point of sale (POS), website and marketing management, online booking, sales reporting, gift card services, membership programs, inventory management, and remote web access. "We can instantly schedule an appointment, compare it with the client's previous visits and print out an upcoming calendar," Arnold details. "A scheduling tool automatically works to set appointments, send reminders, suggest rebooking, share business news, and follow up after an appointment." Such perks free staff from maintaining constant lines of communication with clients, while still keeping clients engaged and minimizing missed appointments.
RELATED: Beauty and Salon Professionals Share Their Secrets to Success
Indeed, software's greatest selling point may be the huge boost in efficiency (and therefore profit potential) it promises. "This is the best part of using salon software for me," enthuses Detra Smith, artistic director for Helen of Troy/Hot Tools and Matrix artistic educator, as well as owner of Hannah & Me salon in Moulton, Alabama. "Most of my clients now prefer online booking. And with text reminders, I rarely have no-shows." And, if clients left notes about an upcoming service, Smith can be better prepared before they walk in— for example, if additional time is required. Afterward, she'll record notes in the system about the formulas and services provided for future reference.
Relationship Building
Today's consumer demands a customized experience, and software simplifies the process of tracking her every preference. "We consolidate customer records and purchase history into a single database, making it easier for employees to create more personalized experiences across the board," Arnold notes. "Besides improving client-stylist relationships, having real-time access to purchase history can help you forecast inventory more accurately and target customers for future sales or promotions."
Meanwhile, Christie taps software to constantly touch base with clients. After leaving, every guest receives a four-question survey via text to track client satisfaction. "This helps retain clients—connecting them to the salon, not individual employees—and build our brand and business," Christie explains. "We'll also send birthday messages or 'missing you' messages (with an incentive) if they've not visited in two or four months." Finally, her system stores before-and-after photos, which helps especially for color corrections and allows stylists to pull up past results in a flash.
Spurring Staff
Software can be used for bettering stylists' skill sets and boosting morale, while giving the owner a clear look at the performance of each staff member. Christie pulls reports to determine for each stylist how many new clients she's taken—and how many of those remained loyal, changed stylists or never returned. Meanwhile, she tracks progress and rewards accordingly on each employee's unique personal goal, such as hitting a certain retail sales figure, and prints out daily reports for review. "You become factual rather than emotional when dealing with employees," Christie says. "Then, at yearly reviews, we look at the stats in terms of retention, referrals and retail—rewarding or correcting issues as necessary."
For management at Salon Lujon, software provides critical reporting benchmarks that determine key performance indicators and help Arnold coach his team accordingly. "The report results are run based on a given date range, so it's easy to see how we've performed during advertised specials or between quarters," Arnold relates. "These tools allow me to carve out attainable, time-sensitive goals for employees, which keeps me in the loop and makes them feel I'm investing in them and rooting for them to succeed."
RELATED: How to Effectively Boost Business by Selling Aftercare Products
Money Matters
If nothing else, salon software promotes a two-pronged bottom-line boost— increasing profitability and cutting costs— by automating routine yet potentially time-intensive tasks. But the possibilities are more profound: Arnold, for example, runs sales reports in real time, tracks individual booth renter profits, examines what products sell or gather dust, forecasts future profitability, and books recurring appointments based on a customer's previous cadence (such as every four weeks).
At the same time, Arnold cuts costs by digitally consolidating client, inventory and marketing data (hence, making the salon more eco-friendly). "We also have all the tools needed to make managing our inventory quick and easy, with product reorder notifications, reporting, purchase orders, and check-printing integrated together," he adds. "The software even provides us with customizable email templates that give us inspiration and quick turnaround time for email campaigns, website pages and in-store marketing."
Similarly, Smith uses her system to monitor sales numbers and charts for every product and service offered in the salon. And Christie turns to software for advertising flash sales on slow days or promoting new services at a discount to increase traffic, and then monitors which marketing tactics perform best. "We have a large retail area, so it helps us track exactly what's sold and what's on the shelf, plus allows for automated order printing," she notes.
Playing It Safe
Linking up with on-site surveillance cameras for remote viewing. Safely storing sensitive information. No doubt: Software helps minimize security pitfalls that could devastate a salon. For example, Arnold points out that salons with a paper-only business run the risk of misplacing sensitive information, like payroll or customer payment methods. "Our system keeps track of all the data associated with our business and backs it up automatically," he explains. "I also have the ability to decide who sees what by controlling permissions to every feature in the software, and each employee is assigned a unique password to ensure his or her information is kept safe." For added security, an appointed administrator controls access to every screen and function.
Smith's system also features security measures to protect both the salon's and clients' info. "There are levels of security from which I can choose to strengthen my account," she says. "We use a chip reader for added security and don't save cards on file. Using the same system for four years, we've never had a problem!"
Software Touches
The latest salon software boasts a bevy of benefits for savvy owners.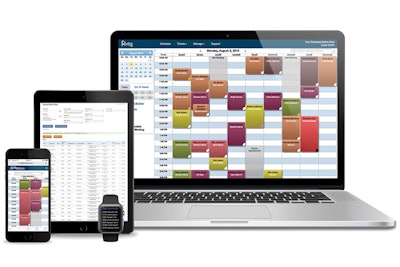 Cloud-based Rosy Salon Software offers a comprehensive suite of scheduling and business tools created exclusively for salons and spas. Access software anytime, anywhere, on any device, with key features like appointment scheduling, online scheduling, automated text and email communications, inventory management, POS, integrated payment processing, Facebook integration, and email marketing. Special options include booth renter management, suggestive selling, product reservations, a performance dashboard, and SalonInteractive eCommerce.

With the convenience of remote access and the business-enhancing effects of real-time reporting, Salon Iris makes salon management a breeze. Owners can streamline bookings with features like drag-and-drop appointments, email receipts and appointment reminders, while client-management tools help design a loyalty program, send emails and texts, and track purchases. Customized, automated marketing capabilities help sales stay on track— and keep clients coming back.

Millennium Systems International introduces the rebuilt version of its cloud-based software, Meevo 2, designed to grow beauty businesses in the mobile age. The patent-pending Convobar allows users to hold conversations, while Smart Center's customizable dashboards can be personalized to fit a brand's unique style. With advanced membership tools, a touchscreen-enabled register, innovative inventory management tools, and access to online learning platform Millennium Academy, Meevo 2 helps business boom.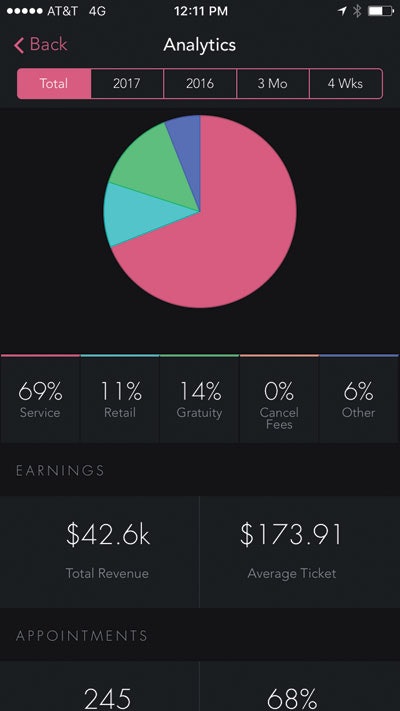 GlossGenius intuitive salon software system empowers beauty professionals to reach their full entrepreneurship potential. With a unique focus on salon studio and booth renters, GlossGenius offers integrated booking, follow-ups/reminders, payments, reporting and analytics, marketing, and client tracking platforms, in addition to simple social media integration. Available via a $24 monthly subscription.
With an emphasis on getting the most bang for your buck where haircolor inventory is concerned, Vish boasts a Color Bar App that records all formulas and reduces waste; a Front Desk App that provides detailed client tickets; a Web Platform that charts key analytics on usage, waste, and applications, as well as overall team member performance and guest records; and more.

A salon software pioneer (originally launching in 1982), Mikal Salon & Spa Software has recently expanded its brand to include Mikal 7 software. Mikal 7 is the seventh major upgrade to the software system during its tenure, and is Java-based with cloud and multiplatform capabilities. Features include a complete POS and booking system for salons and spas in addition to easy interfacing with QuickBooks, WebAppClouds, ZeeZor, Demandforce, and other industry software partners.
This story first appeared in the January issue of Beauty Launchpad magazine. To receive the magazine, click here to subscribe.
[Images: Getty Images; courtesy of manufacturers]