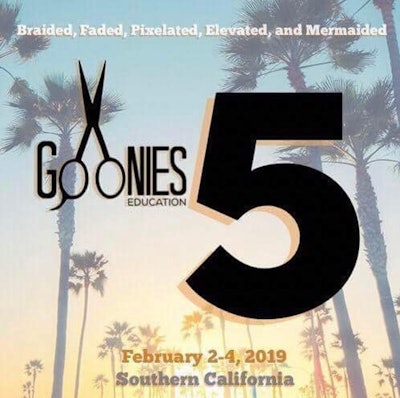 On Sunday and Monday, February 3 and 4, 2019, The Goonies are hosting their first educational class of the year at The Kut Haus in La Verne, CA. Founded in 2015, the diverse group of educators is a traveling collective of artists, teaching and spreading the Goonies vibe around the country. "We are not the 'cool kids' but instead, an all-inclusive group that is focused on a community mindset and real independent education," says Bridget House, Goonies cofounder. Read below for our interview with House and Ursula Goff about the class and what to expect. To purchase tickets or watch Live on Facebook, visit neversaydye.com/workshops and be sure to follow their shennanigans at @thegooniesofficial. 
Beauty Launchpad: Tell us about The Goonies. What is it? How did it get started? Who is part of it?
Ursula Goff: We met at a hair show in 2015 where we commiserated about our frustrations regarding education in the hair industry. We realized maybe we could offer a new strategy, but also realized in the process that we had become great friends, bound together by how much we value knowledge and community. Our first class was originally devised as more of a way for us to hang out together while doing a project, but the feedback we got from the students was so great that we realized we may have stumbled onto something important, so we kept going. 
Our group is a mishmash of stylists and assistants from all over the country, and there's also a bit of a rotation regarding who teaches - some of us have other obligations and can't make every single class, some of us teach a few different things, some of us alternate between teaching and assisting, and some of us prefer to stay behind the scenes to keep things running smoothly. We've also begun adding a guest artist to each class, just to shake it up a little; blonding specialist Sarai Speer will be featured at the La Verne class!
Our group is currently comprised of: Adrienne de la Cruz, Alexis Hall, Angela Gregory, Ashley Rocks, Crystal Casey, Hannah McKay, Heidi Grether, Jason McDonald, Joleen Thicklin, Joseph Trace, Kenny Plaster, Keon Washington, Kinsey Smith, Lauren Stockton, Bridget House, Mandy Smith, Melissa McCowen, Nadine Donovan-Agiesta, Nora Dababneh, Philip Ring, Ricardo and Angela Santiago, Ruby Devine, Samantha Christopher, and Ursula Goff. 
BL: What will the class focus on? Will it be theory or hands-on? Or both?
Bridget House: One of the things we pride ourselves on is the sheer amount and wild variety of knowledge that we present at our events. We have focused on braiding, fading, mermaiding and pixelating at our past events, and have now added social media, personal growth, photography, color theory, extensions and men's hair replacement.  A large portion of our attendees has been to multiple events and we want to keep the content fresh. Plus, we continue to learn new techniques ourselves and want to spread the wealth!  
UG: A Goonies class is going to have something for everyone—no matter your niche, years of experience, or location. Since we usually have about roughly 20 educators for any given class, we have the opportunity to cover the entire gamut. 
Logistically, it would be incredibly difficult to do a hands-on class with so much subject matter, so it is largely look-and-learn. However, VIP ticket holders are able come to our prep day and get up close and personal with the work that we are doing and can ask whatever questions they want. 

BL: Are there different tiers available? What are the differences?
UG: A digital ticket will allow you to view the class live on Facebook and have access to that video in perpetuity for $195. A general ticket, $595, will get you into both days of the class, February 3 and 4, plus access to the Facebook video and a swag bag. A Goonies Plus (VIP), $695, will provide everything already listed and allow you to attend our prep day on February 2.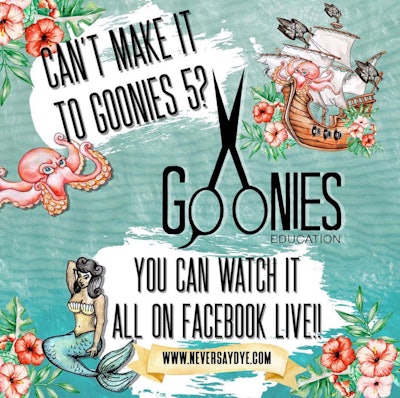 BL: What do you hope is the biggest takeaway from the class?
UG: That there is a community in the industry that really cares about helping you. We don't just want you to be able to go home and be better at your job and make more money—we want you to feel empowered, we want you to make friends, and we want you to know that we will do our best to be there for you. We value the human connection and intimacy of our classes above everything else. 
BH: While all of the skills we highlight at the classes are immediately marketable, our real goal it to build a sense of community amongst stylists and plant the seeds of self-confidence to help them manifest their goals.  
BL: How can people stay connected throughout the year?
UG: We create alumni groups on Facebook for all attendees of the classes. This allows them to come directly to us with any questions, but also to crowd-source information from other attendees as well, in addition to streamlining information gathering for things like schedules and event planning. We encourage everyone who comes to our classes to get to know each other and network together, because we feel that all of us can learn something from everyone. We also have a Goonies Instagram page, @thegooniesofficial, where we love to share the work of our attendees and keep up on everyone's progress.