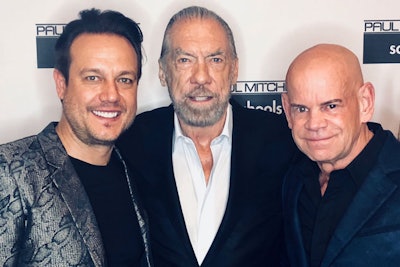 Stylists are bighearted by nature—they share their time and talents to make clients happy every day. But donating to a charitable organization can feel daunting, especially for first-time philanthropists. Our giving plan offers three pillars a salon owner can follow to kick off 2019 generously.
Select a Clause
This seemingly straightforward task might actually be most challenging because the question becomes: How to pick the right group when confronted by a world with so much need? It requires a little soul-searching followed by a conversation with employees. "Every year, we survey our network of 100-plus Paul Mitchell Schools, asking owners and directors to share the names of causes about which they feel most passionate," informs John Paul Mitchell Systems (JPMS) public relations director Gail Fink. The brand's annual FUNraising campaign has generated a staggering $19.7 million distributed among various nonprofits over the last 15 years, along with more than $618,000 for breast cancer research since 2011. "You can't assist everyone, so prioritize the organizations you wish to support," advises Gordon Logan, CEO of Sport Clips Haircuts. "If two are equally important, be pragmatic and consider which is more relevant to your clients and community." Business-building is not the purpose of philanthropy, but it does produce a lovely halo side effect. Notes Logan, "Clients feel better about supporting a company that assists with worthy causes."
RELATED: Paul Mitchell Schools Raise $1.5 Million for Charity
Vet the Nonprofit
After compiling a prospective list, Fink and her team research potential partners to ensure they do good work and use donations well. "To participate in our FUNraising initiative, each charity must be a registered 501(c)(3) with low overhead and a solid track record," she shares. Ask to see a Form 990, which is generated by the IRS to provide public info about how a nonprofit spends its money. "If a charity is only 50-percent effective, meaning they spend on salaries the same as what's put toward helping primary beneficiaries, half your money is essentially wasted," explains Logan. "We look for institutions that are at least 80-percent effective." National agencies like Charity Navigator simplify the process of intelligent giving by deep-dive reviewing where funds get funneled.
Allocate Funds
"Concentrating on a small number of causes enables you to have a larger impact," reasons Logan. "Giving $1,000 to one group makes a bigger difference than $1,000 spread out across 10 nonprofits." That said, if you're low on cash, consider volunteer work or raising awareness. "Most of our FUNraising funds come from grassroots events including cut-a- thons, fashion shows, bake sales, and raffles, with donations averaging $5 to $10," says Fink. Because the beauty industry tends to band together in times of need by rising to support those salons affected by fires, hurricanes or other natural calamities, any money you have left over at year's end may be earmarked for disaster relief—a valuable way to start looking ahead toward 2020.
RELATED: JPMS Sets Goal is to Plant 750,000 Trees Around the World
Apps-Olutely Easy
Three apps make donating a breeze.
One Today: $1 daily goes to your pre-selected charity. Google covers transaction fees, so nonprofits receive 100 percent of funds.
SharetheMeal: One phone tap donates 50 cents to feed one child for one day.
Coin Up: The kindest way to share your (digital) spare change.
This story first appeared in the January issue of Beauty Launchpad magazine. To receive the magazine, click here to subscribe.
[Image: Courtesy of Paul Mitchell Systems]