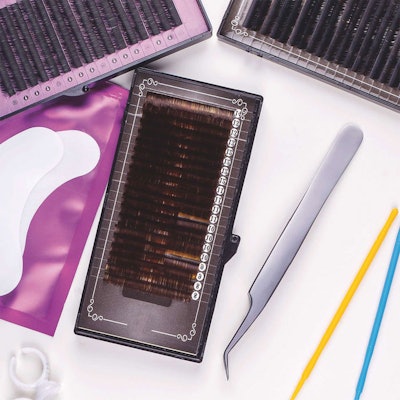 It's always smart to try before you buy, which especially rings true for first-time clients who may develop sensitivities to the glue, gel pads or tape used in lash services—hence why patch tests are imperative. "If there's any reaction, you can catch it before you apply a full set and prevent clients from having severe reactions," explains Glad Lash training and education coordinator Maryann Matykowski. While there are alternative options for clients sensitive to tape and gel pads, those who even get a tingle from the glue must avoid extensions, as it can cause redness, swelling, itching, burning and weeping. If you skip the screening test, you risk sending your client to urgent care with her lashes also needing to be removed when her lids are compromised and painful, warns Matykowski. For safety's sake, follow Matykowski's steps 48 hours prior to a full application.
RELATED: Everything You Need to Know About the Trendy Semipermanent Brow Services
Patch-Test How-To
1 Clean and dry the lashes.
2  Apply gel pads and tape to secure the lower lashes and prevent lashes from sticking together top to bottom.
3  Apply two to three lashes at the outer corners of each eye.
4  Dry the lashes.
Have the client return in 48 hours for evaluation.
[Images: Getty Images]