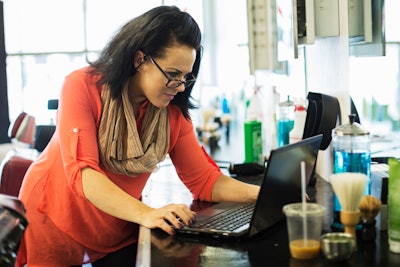 Marketing expert Stephanie Mitchell shares the scoop on how to make Facebook advertising work for your business.
Even in the age of Instagram and Snapchat, many of your clients are still on Facebook, and Facebook ads do work. As a digital marketing expert and founder of Sunnystorm Marketing, I've helped many salons celebrate success with Facebook ads—it's just a question of showing people what they really want to see on social media. To use Facebook ads successfully for your own salon, you have to post genuinely interesting, entertaining or inspiring content and then promote it to the right audience. Here's how:
The Promotion
The best Facebook ads are ones that promote something special, time sensitive or in limited supply. If you have 50 gift cards for new clients, if you have a special promotion running for the next week only, or if you're celebrating your first year in business with an offer, you're on the right track.
RELATED: How to Use Social Media Marketing to Target Local Potential Clients
The People
The beauty of Facebook is that you can target your audience precisely. My advice? Stay slightly on the broad side and target women (or men) in your chosen age range within 10 miles of your location. Adjust the 10-mile radius until you get an audience of at least 50,000 that will see your ad on Facebook.
The Objective
Under Facebook Ads Manager, you can choose a "Campaign Objective." This option is so powerful but often overlooked. What should your o​bjective be? If you want viewers to click to your website, choose traffic. If you want them to comment on your ad, choose engagement. There are several to choose from, and depending on your selection, Facebook will show the ad to a different segment of your audience.
RELATED: Beauty Marketing Pros on Optimizing Social Media Hashtags
The Ad
This is where your creativity comes into play: the creation of your Facebook ad. The best ads are personal and friendly. People love watching videos and they love to connect with other people (not businesses). Try making a short one-minute video introducing yourself, your team and your salon. Then, in the ad text write a friendly intro about yourself and the offer. At the end include a call to action, such as "Click the button to claim this offer!"
The Aftermath
It's important to check on your ad campaign every few days to see how it's performing and make improvements along the way. Test several versions of your ad with slightly different text, or create multiple audiences with different age groups and interests. If an image doesn't work, try a video and vice versa. Experiment with your ads often, and remember that they're always a work in progress!
Tip
Don't be afraid to show your own face and your staff! Viewers want to connect with people, not just a business.
[Image: Getty Images]