This collection launched in conjunction with the arrival of MVRCK, celebrates men's grooming demands and provides stylists and barbers with the tools they need to meet them.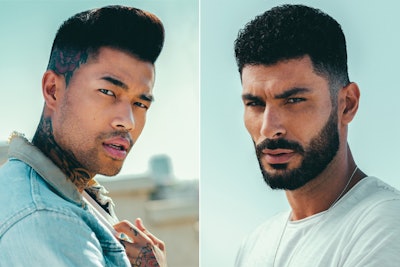 Left - The Barber: Jason Reyes
To create this updated rockabilly look, Reyes used clipper and clipper-over-comb techniques to create a high fade above the occipital while over-directing the hair on top to maintain length. On wet hair, he then applied MVRCK Blade Slip before razoring in a hard part. Mixing Shave Cream with water, Reyes removed bulk underneath and lined up edges with a straight razor. Spritzing with Grooming Spray, he then blow-dried the hair, finishing with Original Pomade and Skin Tonic as an aftershave.
RELATED: Inside the MAN Cover With the Launch of MVRCK
Right - The Barber: Corey Bakon
Using an adjustable blade clipper, Bakon created a guideline to establish the weight line, alternating blades to create a seamless fade. He expanded the shape on top using scissors and texturizing shears, then applied MVRCK Original Pomade to finish the hair. He used Blade Slip to line up facial hair and the hairline, and finished off the beard with Skin + Beard Lotion.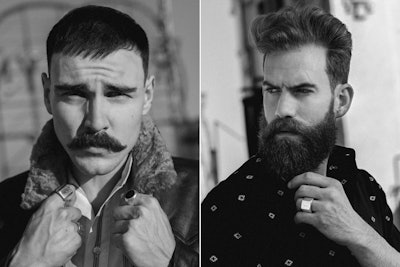 Left - The Barber: Michael Stout
Using a trimmer to outline the edges and establish length on the sides and back with a #2 guard, Stout faded down to the skin, then layered the top using the parietal as a guide. Prepping with MVRCK Grooming Spray, he blow-dried the hair, then finished with Dry Paste to create volume and texture. After shaving with Shave Cream and Blade Slip, Stout applied Skin Tonic as an aftershave and Skin + Beard Lotion to the model's mustache.
RELATED: Paul Mitchell Unveils MVRCK Barbering by MITCH
Right - The Barber: Megan Porter
Porter used a scissor-over-comb technique to remove length on the sides and back, then edged with clippers. She wet hair on top and, using the length at the occipital as a guide, over-directed back and cut to preserve the length. Porter blow-dried hair, then applied MVRCK Dry Paste to the sides and top, and finished the look by cleaning up the beard with Blade Slip and Grooming Spray, finishing it off with two drops of Beard Oil.
[Creative director: Lucie Doughty; Hair: MVRCK Barbering Team; Photographer: Gil Pereda; Stylist: Fabrice Guyont]