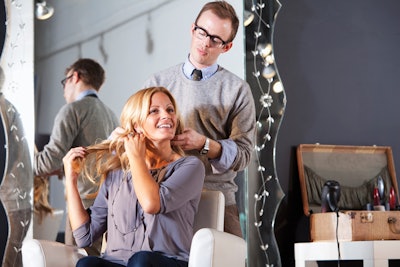 We live in a world where, for the most part, we believe that change is good. But drastic changes? Those can be great, OK or downright bad— especially when dealing with hair. How you guide clients who request a massive haircut or color change determines whether they leave your salon satisfied or regretful. Here, industry pros lend their expertise on how to best advise your clients through their 180-degree hair makeovers.
Understand their Mentality
Often a drastic chop or color switch aligns with something deeper going on in the person's life. "As hairstylists, we do a lot of things: We cut, we color and we're also image consultants," says Rodney Cutler, Redken brand ambassador and owner of various Cutler Salon locations in New York. "When we introduce change, it's not just about aesthetics; it's about also knowing that this is the right time to do it."
"During the consultation, I always ask, 'Why?'" adds David Adams, Aveda colorist and co-owner of Fourteenjay Salon in New York City. "We as humans usually want to make a drastic change when something drastic has happened in our lives—like a divorce or job loss. The hairstylist's job is to figure out, 'Is my client psychologically prepared for the change?'" Think of this as the discovery portion of the consultation: You're figuring out her motivations. "To me, their reason should be more than a whim because a drastic change is a process they'll have to live with for awhile," Adams says. 
RELATED: Hair Color How-To - Peaches and Cream
Ask, Listen and Discern
What if you disagree with your client? You're the expert, right? Yes, says Cutler, but this idea can often be abused because some clients put blind faith in a reputable salon simply because it's well-known. "They trust without even knowing the stylist," says Cutler. "They'll ask, 'What would you (the stylist) do?' I never answer this question because the decision should be based on who they are." He calls it the "I am" theory: The consultation needs to shift from the expert telling the client what they believe should be done, and instead, describe who she is and from there establish an understanding of the aesthetic that she'll ultimately be comfortable with.
"This is the time to see what she's picky about, what she like or dislikes, how she wears her hair—and by having the client talk, she'll become more comfortable in your chair," agrees celebrity hairstylist Dean Banowetz, the "Hollywood Hair Guy." Of course you'll be guiding the conversation, but there's an art to it, says Cutler. "I love open-ended comments: Tell me what you like about your hair and what you don't like about your hair," he shares. "Stylists need to establish the likes and dislikes, read between the lines and then start to narrow them down."
Judgment Calls
"What I've learned over the years: Nobody really knows what they want until they dissect it," Adams says. Exploration through questions helps guide clients until they begin to realize the service does or doesn't service their interests. And if they remain adamant about a drastic change that won't suit their style, hair, life or finances? "If I can't guarantee that I can give a client the outcome she wants, I'm not going to take her money for the service," says Adams. "An unhappy client can hurt your business and reputation." Use your judgment, but always ask as many questions as possible before passing on their business. "Our job is to please people and make them happy—not to give them a half-baked color or cut. So we say 'no' as often as we say 'yes,'" he admits.
The Benefits of Baby Steps
When a client floats a drastic change, is there a right time to suggest baby steps? "Definitely," says Adams. "They're great for new clients, especially because at that point her version of subtle and drastic could be vastly different than mine." He uses this example: If a new walk-in requests a bright cherry color with no past history of big color changes (that she admits to), you could suggest a semipermanent red first to ease her into the change. "It's a like a first date," he laughs. "Then if she likes it, it becomes, 'Let's get engaged and then let's get married!'"
RELATED: How to Achieve the Perfect Haircut for Every Hair Type
"Change is scary, so figuring out how we can start to establish change and evolve can be the best path," says Cutler. Whether a slight change with highlights or adding some layers, the goal with baby steps is to introduce comfort and help the client see herself in a different light. "That's the trickiest part: We all see ourselves in a certain light and we feel comfortable in it. But that idea can be molded so that clients see themselves a different way—and baby steps are a safe way of doing that," he explains.
Going All In
"Here's the thing: If a client can convince me that she's born to be a redhead, that she's happy to change her wardrobe and makeup, that she's willing to embrace the commitment to upkeep, then absolutely—I'm going to go with you all the way," says Adams. However, going all in with a drastic change can bring about buyer's remorse, Cutler mentions. To mitigate this, do away with any salesman speak. "Hairdressers have big personalities and are good at selling a look, but we have to be careful we don't use those people skills to actually take someone down a path that ends in buyer's remorse," he says.
Can you really guarantee that a person who's ready to dive into a drastic change will come out on the other side a happy customer? Maybe not—but you can very well try by being thorough and honest from the get-go. "In the consultation, I let you know every single detail we have to do to get you where you want: the time, the cost and the recommended maintenance and products," says Adams. "But what the client needs to know is: This might all change when she comes back in four weeks. Having this understanding is important to start the process. I want the client to know we're embarking on a relationship together." Preferably a happy one—with many changes on the horizon.
RELATED: Celebrate Your Client's Natural Texture with These Curly 'Dos
How to Consult on Four Drastic Changes
These services are the toughest of the tough for guidance—but they're also some of the hottest 180-degree hair changes around.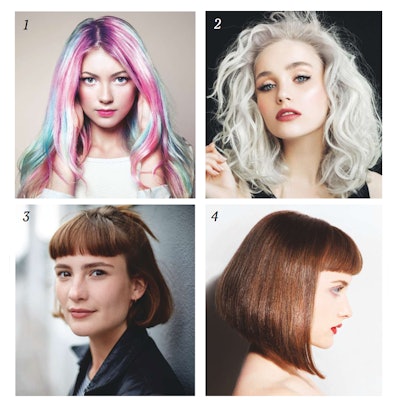 1) Rainbow Hair
First, explain how the color works. "Since its temporary, it will fade every single time the client shampoos," says Adams. Walk clients through the process— that you'll likely lift hair to platinum to achieve the desired vibrancy— what it will cost, and what it can do to hair. The condition of the client's hair plays a major role, too. Be sure to have a candid discussion about accelerated color fading due to factors like porosity and prior damage. Prepare clients for frequent visits for color refreshes, and if you know you won't be able to lift their hair to the requisite white blonde, explain why this will affect the color outcome. "After any toner you applied fades, yellow-y hair will change the color—think: Yellow plus a silvery gray equals green," Adams explains. For pastels: "I advise guests to go a bit bolder because after a few washes it will fade to the desired color, and you then get more longevity," says Adams. For both brights and pastels, Banowetz tells clients to wash with cold water as well as color- safe or color-depositing shampoos to stave off color fade.
2) Platinum Hair
This conversation is all about managing expectations. "Going from dark to platinum in a day is most likely not going to happen," says Banowetz. "Your client needs to know the commitment—and the cost." If you know you're not able to lift them to their liking, walk them through why—including a very honest conversation about the condition of their hair, says Cutler. Maintaining hair integrity should be a goal for any colorist, and if this is communicated to the client thoroughly, the client should agree. Finally, discuss what will happen after she goes blonde. "If she decides to change her hair to another color, how will you transition her out of blonde?" says Cutler. "That's something you need to discuss before you even lift her. It's a big conversation that often goes unsaid."
3) Blunt Bangs
For such a simple-seeming chop, bang snips can be the most difficult to pull off perfectly in one sitting—and even if you do, the visual change can still drive a client to tears. To avoid this, Cutler says you'll want to discuss upfront how the bangs will grow out, how to style them a few ways, and how often the client should come in to maintain them. "We do complimentary bang trims, and we encourage clients to come in regularly to keep up the look," he says.
4) The Bob 
"Pictures are a must because my idea of a bob is above the shoulders while the client might picture her hair below the shoulders," says Banowetz. However, bobs need to be adjusted to suit the client's features, so be sure to explain that the finished cut might not reflect the exact celebrity photo she brings to you, says Cutler. Then give her an instant visual. "I'll create a mock shape by pulling up the client's hair and making it look like a bob," explains Cutler. "I study her body language during this. Does she sit up and take interest? If not, I'll keep playing with the shape until we find one that makes her happy." Finally, walk clients through the maintenance and growing-out process. "At some point, they'll want to grow out their hair, so discuss realities—the time it takes and any trims in between—in an authentic way," Cutler says. Once a thorough consultation is complete, the transformation can commence.
[Images: Getty Images]