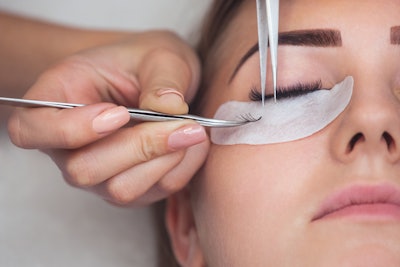 Volume lashes: the hottest service for eyelash extensions, but also the hardest to master. Diane Lytle, owner of TheLashChick in Wasilla, Alaska, offers these tips on overcoming a few of Volume lashes' biggest obstacles.
Besting Frustration: Practice and patience makes perfect—especially with Volume lashing. "Understand that Volume lashing isn't easy," says Lytle. "The only way to overcome frustration is by being patient, practicing a ton and knowing that everyone has to start somewhere."
RELATED: 8 Tips for Saving Money While Attending Eyelash Trade Shows
Make the Most of Mapping: According to Lytle, mapping lashes, an often forgotten step, maintains structure and symmetry in your design and can also help with application speed. "It's easy to get lost in the vast amount of natural lashes a client might have, and with lash mapping, you'll be more focused on where to place your fans without loosing track," she reasons.
Tweezers Selection: With so many tweezers on the market, choosing a comfortable pair for fan pickup can overwhelm artists. True, "it's a personal choice," Lytle explains. But, she notes, each tweezers style offers a different pickup and, again, practicing with various tweezers styles is the only way to help you decide what tension and grip works best for you.
[Image: Getty Images]