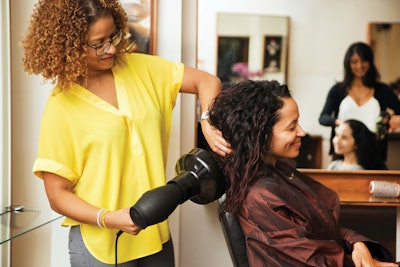 No two clients have the same exact hair, which is why there isn't a one-size-fits-all approach when it comes to giving the perfect blowout. Whether she has highly textured tresses that are more difficult to manage or limp strands that demand assistance in the volume department, there are a multitude of ways to blow-dry hair–and it's up to you as her trusted stylist to employ the best techniques that cater to each client's specific needs. We tapped top industry leaders to share their insight and advice for creating custom blowouts that will blow clients' minds. And don't forget to update your beauty arsenal with the savviest blowdryers and tonics that will help make you the ultimate blowout master.
Va-Va-Volume!
For clients with thin or fine hair, the struggle is definitely real, but that's what being a blowout pro is all about—with the right techniques, you can take her from limp to voluminous with ease. And it all starts with product selection. "The easiest way to create more lift is to avoid saturating the scalp with conditioner when cleansing," says Gabriel "GQ" Quiñones, an international educator for Johnny B Haircare. "Although it's very important to hydrate the hair, we want to avoid using too much moisture on the scalp because it may cause the hair to lose volume." While keeping conditioner to a minimum, there are other products you can add to clients' hair to maximize volume. Aloxxi artist and celebrity colorist Marco Pelusi recommends volumizing gel or mousse along with hairspray to plump up tresses. "Ideally, you should be able to use a product and still be able to comfortably get your styling brush easily through the hair while styling," he points out. "Sticky product is never good for anyone, stylist and client alike!"
How you style the hair is also key, which is why Pelusi always uses his fingers and hands to rough-dry the root area to ensure lift from the start. "Don't leave any area wet," he says. "Wet roots will leave you with hair that falls and doesn't hold its shape." Start by blow-drying hair in the opposite direction at first; if your client wears her hair to the left, get your hands in at the roots, style it to the right with your brush, and then flip it back to the left. Overdirecting is another good way to add volume, which can be achieved by brushing toward the back of the head to build volume, then letting the hair fall in its natural growth pattern.
VIDEO: How to Create This Light Rose Gold Hair Color
"Your brush selection is key too," Pelusi continues. "I prefer a metal brush that gets hot as you blow-dry, so that you're literally setting the hair as you style it. You can also add a spritz of spray on the brush or to each section of hair, before or during the blow-dry, so that the hair remembers and holds as you move along." Finally, backcombing is a safe and easy technique for challenging areas such as the crown, through the part, or for fringe. Pelusi advises stylists to keep backcombing at a minimum to avoid damaging the hair, and to choose a strong hold hairspray that can be added before combing tresses out. "Make sure the spray doesn't contain any water-soluble ingredients," reminds Pelusi. "You want a spray that will easily wash out of the hair during the next shampoo to keep your client's hair in good condition."
Curly Concerns
"Blow-drying curly hair straight is a hard topic because each head of curls is different, some being easier than others," says Cassandra Levine, master stylist and head of education for Erika Cole by Raquel Salon & Spa in Syosset and Plainview, NY. "One misconception people have is leaving the hair soaking wet. I truly believe when you air dry the hair first then go in and smooth it out, it's not only easier but it's less time consuming." Another misconception she says many stylists have is using smaller brushes. While she admits that smaller brushes can be good for the hairline, the bigger the brush, the straighter the hair for the rest of the head, which also will cut down blow-drying time. "Last but not least, never be afraid to use your flat iron," she adds. "It doesn't mean you didn't blow it out properly, but it will ensure the client's look lasts for days."
What most stylists do right, according to Levine, is using product, which you can never have too much of when it comes to curly hair. "Usually I use an oil to help defrizz and smooth the hair, as well as products that will help cut dry time," shares Levine. "I'll also finish with an anti-humidity spray to ensure the blowout lasts, no matter what the weather conditions may be. Finally, taking smaller sections has helped me get a smoother look. Take your time and never rush. Curly hair may be tough, but being a stylist who can handle it is such an accomplished feeling!"
RELATED: How to Cut a Modern Shag with Andrew Carruthers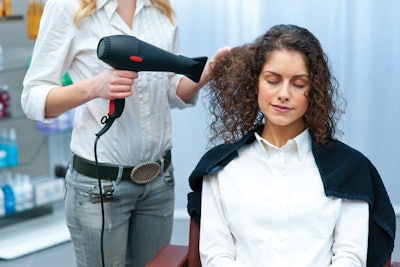 The Deal on Diffusers
Do diffusers actually make a difference? Absolutely—especially when it comes to boosting natural texture. "Often overlooked, the diffuser is an awesome tool for curly hair," says Kyle David, a colorist at Sally Hershberger Los Angeles. "What was once difficult and fussy hair becomes gorgeous." He starts by placing his dryer on low heat along with low power. The trick is in the settings, which lock in the curl pattern throughout, all while not disrupting it and preventing excess frizz and fried ends. "After the hair has fully dried, I go through with a trusted curling iron to add some finishing details and create a polished look," he says.
For coloring, David uses his diffuser to help clients achieve that sun-kissed beach look. "I could not imagine doing a balayage without my diffuser to heat the desired area," he adds. "By the time I've finished my application, the back portion is almost fully processed. Then it's time to heat the front, and my diffuser helps to speed up time in the chair and process everything perfectly." To achieve the ultimate beach balayage effect, David aims his diffuser toward the ends of the hair. Since hair is naturally lighter toward the ends, this allows for the ideal outcome of a subtle lift from the base to the mid-shafts, leaving a jaw-dropping and bright pop at the ends.
RELATED: 5 Expert Tips on Improving Your Conversation Skills
Less Pain, More Gain
Reducing stress on your wrists while blow-drying will extend your time behind the chair.
Posture is key. "This goes beyond blow-drying, but good posture will save your back," says Pam Genio-Bates, a Kevin.Murphy educator and stylist at Patrick Evan Salon in San Francisco. She recommends adjusting your client's chair to the right height to make sure you're not reaching too high or bending over.
Go light. A key way to preserve wrists and hands during a blowout is to avoid using a heavy dryer. "My shoulders used to burn before I switched to a lightweight blowdryer," explains Genio-Bates.
Use your fingers. "Rough- dry with your fingers to get most of the moisture out before going in with your round brush," Genio-Bates suggests. "That way you're minimizing the repetitive rolling motion of a round brush, which can help preserve your wrist."
Stretch. Stretching is especially beneficial for stylists, who spend all day standing with arms raised, using hand muscles to grasp dryers and other tools. Not only will stretching your neck, shoulders and arms regularly between clients help improve flexibility and stamina, but it will also lessen your chances of being injured or straining a muscle from overuse.
Choose the right products. "A lot of blow- drying is using the power of products," points out Genio-Bates. "Utilizing a smoothing product helps tame the hair so you don't have to physically manipulate it as much."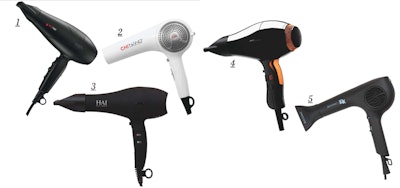 Blow her mind and mane with these top-of-the-line dryers.
1) In addition to ceramic coating for thermal protection, the Sexy Hair Style Lock Pro 1875 Watt Professional Dryer features Smart Lock Technology that automatically powers off when put down and on when picked up.
2) Featuring an ergonomic design, the CHI Nano Hairdryer dries hair sans damage thanks to ceramic ionic technology, while the dual air intake system with two vents reduces drying time.
3) HAI Beauty Concepts STYLSET Professional Dryer emits a refreshing jasmine scent while conditioning the scalp and strands with blue UV light.
4) Elchim 8th Sense Dryer is quiet yet powerful, and can regulate temperature and airflow with the touch of a finger on the electronic accelerator.
5) Dry hair in a snap with the Bio Ionic 10X Pro Speed Dryer, which emits zero carbon microparticle emissions for a healthier work environment.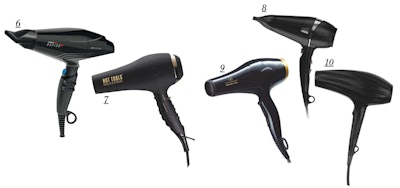 6) The lightweight BaBylissPRO Rapido staves off frizz with a true ion generator, drying hair 50 percent faster while maximizing shine and volume.
7) Hot Tools Black Gold Turbo Ionic Salon Dryer offers increased airflow via a Turbo Power Boost and bestows sheen thanks to an ion select dial that adjusts ionic output levels. 
8) The new ghd Hair Elite boasts advanced ionic technology to reduce frizz and dry hair faster.
9) Equipped with a powerful professional motor and advanced ion technology, the Olivia Garden Ceramic + Ion Professional Hair Dryer (available in July) reduces frizz, staves off heat damage and seals in moisture.
10) Made of premium gunmetal IsoTherm titanium plates, the Neuro Halo Touchscreen Dryer comes with a touchscreen display to easily control heat, airflow and ion settings.
[Images: Top and middle image Getty Images; bottom images courtesy of each brand]