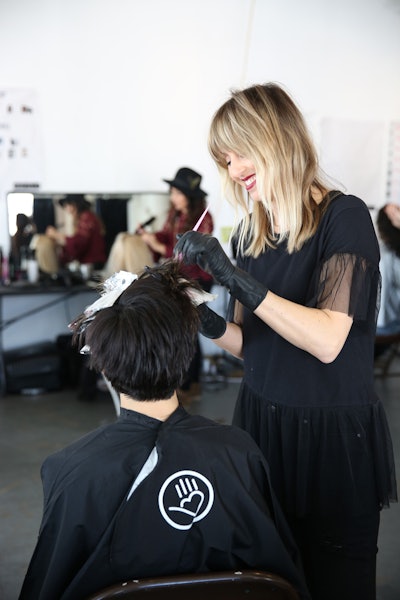 One of the benefits of working in a commission or team-based pay environment is that salons built around those pay structures usually provide some mentoring on your business. We respect that there are a lot of you out there who want to be independent, and there's a growing trend in our industry where many of you are stepping out on your own in either individual suites or booth rental salons. We believe that there's not one right answer for everyone! So, to support those of you who are working as your own boss, we want to share some discoveries that we've made that will strengthen your business and allow you to create a great income for you and your family.
Anna Peters, our Education Ambassador at Sam Villa, runs a thriving booth rental salon in downtown Clovis, California, where all of her stylists work as a team and they focus on their business as much as their artistry. I reached out to Anna to find out what she felt the No. 1 challenge for booth renters might be…I was a bit surprised by her answer, but it makes perfect sense! Here's what she had to say:
"For booth rental stylists, raising prices can be a very hard and unclear task, yet it's an essential step to succeed! There'll be several times throughout their career where they will find the need to increase prices, and that's usually driven by education, experience and demand. Not to mention, they deserve a raise just like everyone else. Price increases are important for the stylist's income, but they also keep their clientele fresh and manageable. People are afraid to lose guests to a price increase, but if you're booked so far in advance that no one can get in, that's just as frustrating and forces guests to move on."
A big question is always, "How much should I raise at a time?" Anna suggests that renters and independent stylist ask themselves these questions:
Are you making a step from newbie to experienced stylist?
Do you have a sporadic flow of clientele?
Is it maybe not the perfect time in your career to significantly increase your prices?
If you answered "yes" to any of the above questions, then consider a lighter price increase ($5-$10) to retain existing clients and appeal to new clients. You still have room to grow, and that's an exciting position to be in! Most stylists experience very little attrition at these smaller incremental raises.
BUT
If you answer "yes" to these questions:
Are you trying to make room in your books for new clients who will pay your new prices?
Do you need to slow down and filter out clients due to an overflowing clientele?
Are you ready to work smarter and not harder?
...it might be time for a steeper price increase of $15 or more. You've invested in yourself and have worked hard to build a thriving clientele with a high demand for your services. Congratulations, it's time for that daring jump! 
To maintain a trusting relationship with your guests, here are a few ideas on how to deliver the news of your increase:
So that your guests understand why you are raising prices, make sure your clients know what you are doing to create more value for them. As a booth rental stylist, no one is going to toot your horn for you; you have to let them know about what you are doing to set yourself apart.
Give one full appointment of notice…no one likes a surprise at checkout.
Present your new prices in a simple frame with a list of your services and a heartfelt notification message. This can get the conversation started.
An email or letter is a good way to start the process, but a personal conversation about the new prices and the reason for them is always better!
Have a backup plan for the guests who may no longer be able to afford to come to you. Is there a fellow stylist who is able to take good care of them and fits their budget better? Maybe you have a young apprentice who could do their gray touch-ups so they can afford to still come to you on occasion for bigger appointments.
Whether you're independent or not, price increases can be uncomfortable. But, if we allow our fears to stop us from what is necessary to move forward, we risk becoming stagnant or burned out. Your salon guests WANT to feel that you are always increasing your value, so be sure that your pricing reflects that value.
Aspire for More!
Sam