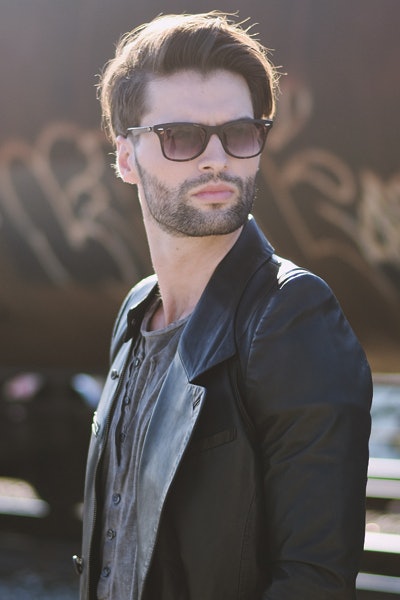 Modern retro. The idea may sound incongruous, but when you look at this issue's cover shoot, it's easy to see how two opposing ideas can come together to create a fresh and on-trend image. "When we put together this shoot, we took the perspective of American Muscle meets American Hustle, because that is the GIBS Guy," says Donna Federici, who conceived the shoot. "No two men are the same, yet they all possess a quality we call complex simplicity." So the team married Jim Morrison's style with James Franco's look in the 2001 movie James Dean for a look that Federici describes as "gritty, pretty, casual cool."
To get the look, Janine Jarman, owner of Hairroin Salon, first washed hair with GIBS Man Wash BHB. "It's a versatile, hydrating beard, hair and body wash that doesn't strip hair or skin of natural oils," she explains. The roots and mid-shaft were prepped with Hitman Texture Spray. "You could leave the hair to air dry from there, but for extra drama I did a 'fist dry,'" Jarman reveals. "That's where you begin to rake an open hand through the front of the hair. Then you make a soft open fist, with the bottom of your palm and wrist resting on the forehead, and blow-dry. This gives some volume to the front and bends the hair back so you get that 'cool guy drop'—think Johnny Depp in 21 Jump Street." Ends were finished with the shine-enhancing pomade Rico Bandito and touched up throughout the shoot with Hang Man, a lightweight dry shampoo.
RELATED: Celebrity Stylist Jason Schneidman on His Professional Skills and Helping the Homeless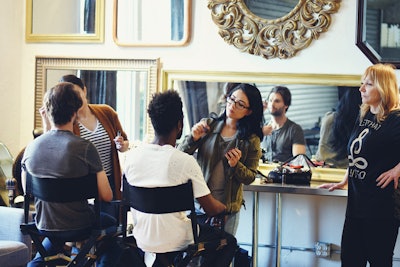 Shooting outdoors can present unique challenges, Jarman says. "In this case, we had no access to electricity and used the back of my SUV for touch ups," she laughs. Jarman says that the team was mindful of the wind and sun and had to move quickly. "But when the sun is right and that wind blows the hair just right, you get some magical stuff that will never happen in a studio."
RELATED: Barbers Are Giving Back to their Communities
Jarman sees longer hair making a comeback in 2018—but that doesn't mean barbers need to fret—after all, this isn't the 1960s. Just make sure you're also appealing to men who want longer hairstyles. "Sharpen your shears and your scissor-over-comb skills!" she exclaims.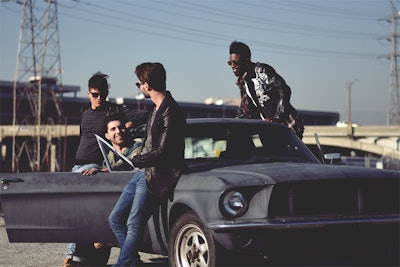 ​[Photography: Kelly Nyland; Hair: Janine Jarman, Hair Assistant: Trevor Kay; Wardrobe: Janna Lee; Makeup: Noel Nichols; Model: Heath Haden]