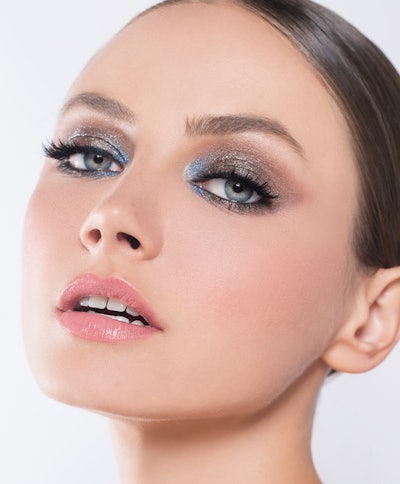 There's no doubt about it: The world of makeup artistry is saturated with talent. With so much competition, securing a job with a first-time client is a major victory. And while you may be celebrating this employment win, that elation you feel is so much sweeter when that same client requests your artistry for a second time ... a third ... a forth ... and so on. After all, getting rehired is the ultimate goal. "A lot of times that first job is luck; but after that, it's all up to you to secure that next job," says Stila Cosmetics global director of creative artistry Sarah Lucero.
The fact is, most people in a position of commissioning you seek rehires. "When it comes to hiring a makeup artist for a shoot, 9 times out of 10 I'm going for a rehire," Eye|Lash editorial director Stephanie Lavery claims. "The more you work with someone, the more you develop a trust and understanding of how to communicate—and that's really important when trying to achieve a certain look." 
RELATED: Eyelash Pros on Managing Sticky Client Situations
But if your talent sets you apart and your elevated skills make you desirable, what more do you need to possess in order to guarantee you'll be top of mind when the next project arises? We tapped three pros—a magazine editor, a makeup artist and a beauty photographer—to candidly talk about what qualities a makeup pro must possess in order to be rehired. Take their insights to heart; you never know—you may work with them one day ... but hopefully more than just one!
Positive Personality
When Lavery hired a makeup artist for this issue's cover (and the image on this page), she immediately thought of Johny Saade, who she's contracted for shoots "easily over 20" times. Why does she keep Saade on a short list of go-tos for magazine shoots? In a word: personality. "[I hired Johny because] he's fun to work with, is never high-maintenance or a diva, and is relaxed on set. I can't stand working with people who act entitled or too good for the job," she says.
Truly: The attitude you project affects every single member of the team—and that includes the model. "Rapport with the model is critical," says beauty photographer Sonja Pacho, whose images have been published in In Style and Self. "Listen to their concerns, realize they're human beings, too, and treat them with kindness and respect. Being a genuinely nice human being makes for a fantastic shoot."
RELATED: Beauty Marketing Pros on Optimizing Social Media Hashtags
Agrees Lavery, "More often than not, you're going to get a great shot when you have a team that can work well with each other, and that means not being aloof or keeping your head down." Come to set with a low- key, yet positive outlook—even if you're not feeling well—and you'll make the day run more smoothly as well as leave a lasting impression.
Team Player
Speaking of team: If you're hired to a job where you work with other talent, you're now a part of something greater than you. "There can be no ego; I rely on the people who work for me as much as they rely on me," says Lucero, who leads teams of makeup artists at various shows each New York Fashion Week. She stresses that makeup artists that support each team member set the entire team up for success, and that going above and beyond to help others truly makes the person who hired you recognize your value.
No matter the job, Lucero encourages makeup artists to take an "I'm on it!" approach. "You need to have the ability to work and listen to what's going on around you at the same time so that if there's an opportunity to help out when you're done [with your task], you'll go and do it," she says. 
Preparedness
While a constructive demeanor and a team focus work to your benefit, coming to the job prepared ups your value immensely. "I do a lot of prepping for photo shoots to create a mood board so the artist knows what he/she's getting into. Therefore, I look for artists who come prepared to a shoot with what I'm asking for as well as variations of the look," says Lavery. "I typically have an idea in my head, but I look to the artist to give his/her input as a professional as well."
Unlike with a photo shoot where you're given advance direction, a fashion show demands that you be anticipatory, prepared for every scenario imaginable because things can change in an instant—and often do. "I look for team members who are hyper-observant and think two steps ahead. They can anticipate my next move," says Lucero. In a busy backstage environment, she reasons, there's no time to ask too many questions or exhibit any pushback. "It's so important that you be a fast learner, extremely adaptable, flexible, prepared and resourceful; otherwise, you delay the results we need," Lucero says.
Take Direction
Whether for a magazine shoot, ad campaign, fashion show, film, red carpet, or wedding, you've been hired to create a certain look, and you'll be directed to do so. Lavery stresses that taking direction well is critical to getting rehired. "Our photo shoots are always a collaborative effort, so I want to be able to work with the makeup artist. If the artist goes rogue and creates whatever he or she wants, I find that extremely off-putting," she says.
RELATED: 8 Ways to Build Positive Word of Mouth for Your Business
However, there may be instances where you, as an artist, disagree with the creative director or photographer— which is OK, but how you deal with this divergence of visions is what sticks in peoples' minds. It boils down to flexibility and compromise; if you feel passionate that a certain color won't work but your client disagrees, more often than not, you'll have to bite the bullet. "Rehireable makeup artists enjoy the collaborative process and know that they may have to adjust things if the client wishes," Pacho says. 
Professionalism 
If you lack professionalism, you might as well kiss that client goodbye. What does it mean to be professional? For starters, show up on time—or even early—and don't dare complain about how late a job goes. "[I remember] when someone is unapologetically late or is trying to skip out early," Lavery warns. If you're glued to your cell phone, detach, be present and always ask permission before snapping a photo of any work being done behind the scenes—especially if you're capturing a finished look. Many clients will want you to refrain from posting images before the project goes live—and if they catch you posting, your chances for booking another job with them are slim to none.
Chitchat on set can be a plus (as long as it's appropriate), but when backstage, Lucero says to keep chatter to a minimum; "it makes it so that you miss important information for the job or you delay the makeup." Speaking of chatter: The minute Pacho hears makeup artists bad- mouthing other team members or runs up against artists who try to tell her how to do her job, she makes a mental note not to rehire them. In fact, over- stepping boundaries places high on a list of ways to ensure you don't get asked back. "[Never] question who's in charge or dictate how I should do my job (like, how I should light the shot); that's a big no-no," Pacho says. "I respect your craft, and you should show similar respect. I enjoy the collaborative process and love input from my team, but a makeup artist should understand the hierarchies of being on set."
A Second Chance?
If a makeup artist commits a work sin—exhibiting a diva attitude, not listening to direction, clock watching, Snapchatting without consent— is a second chance in the cards? The consensus: Unlikely. "Typically ... my gut feelings are usually correct. I can't think of a time when I rehired someone I wasn't happy with and had a complete 180 about him or her," says Lavery, adding, "As the adage goes, you only have one shot to make a good first impression. This industry is extremely competitive, so you want to put your best foot forward every time." 
– by Karie L. Frost 
[Image: Angela Marklew]