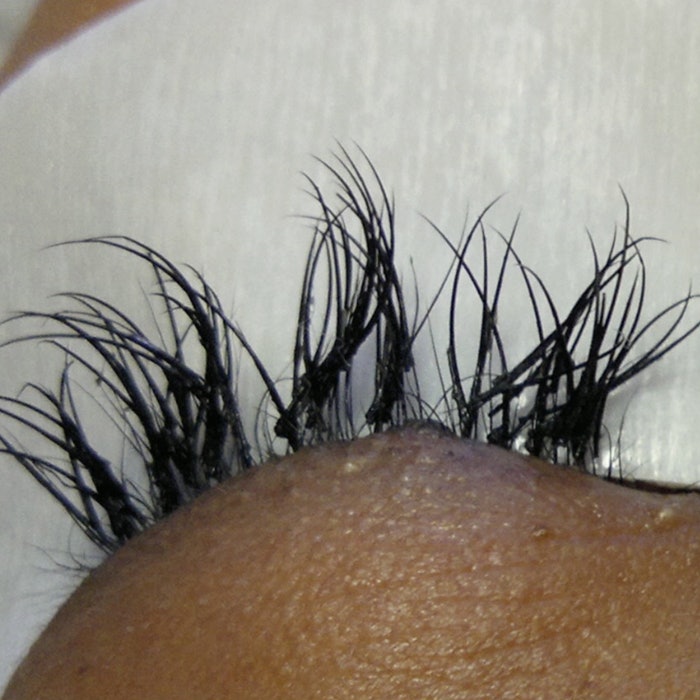 As lash artists, you hope that your clients will remain faithful to you—but there's never a guarantee. What if they leave you for another artist who damages their lashes? They may return to you for much needed TLC, but it's always good to keep them informed about what a botched lash job looks like—in the event they stray. Here, Lisa Sbragia, owner of Fluff Lash + Brow Boutique in Libertyville, Illinois, and founder of the Association for Damage-Free Eyelash Extensions (ADFEE), offers these bad lash detection tips that you can pass to your clients—just in case.
RELATED: Results from the Professional Lash and Brow Artists' Industry Survey
1) The Look Clumpy. If extensions look clumpy, spidery and splay in all directions, they haven't been applied correctly or individually. "They're stuck together, which is essentially what causes natural eyelashes to become damaged and can leave lash line gaps," says Sbragia.
2) You Feel Them. "Eyelash extensions shouldn't feel like anything," she notes.
RELATED: Hand Speed Guidelines for Lash Artists
3) They're Painful. Any pinching and poking at the lash line is a sign of ill- applied extensions. "If they feel tight, that's because each natural lash grows at a different rate, and lash extensions that have been incorrectly applied and are stuck together can pull other natural lashes out prematurely," she says.
4) They Grow Out of Control. Does she notice that between lls the extensions grow out of control and some simply won't lay the right way? "This is most likely because they're stuck to other lashes," says Sbragia.
5) They Look Sparse at Refills. "If lls look more sparse over time, it's due to premature natural lash loss over time as the damage becomes worse," she says.