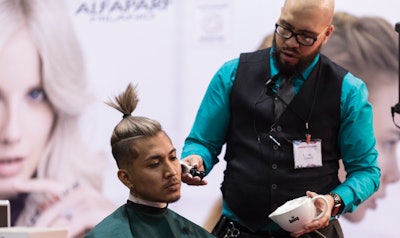 Many professionals will say that education is the key to success. And while most education is product- or tool-driven, there is little available in terms of the bigger picture. That is until Jonathan Cifrèdo, owner of Cifrèdo'z Barber Salon in Reading, Pennsylvania, and founder of Barbering Education, got in on the game. "Our [education] is based on converting knowledge from day-to-day desires to goals and best practices," he says. At the helm of the brand coaching company, Cifrèdo works with privately owned salons and distributors as well as industry icons, such as Nick Arrojo, and brands, including GraffEtch and El Patrón, to assist in goal orientation. Now, Cifrèdo has partnered with SalonCentric to perform live demonstrations in select stores around Eastern Pennsylvania to help local stylists and salons with their barbering education.
Tell us about a little about your career and how you've gotten to where you are.
I've been barbering now for almost two decades, but in the beginning I was mostly self-taught. I worked as an apprentice for five years, which provided licensure and afforded me the opportunity to expand my knowledge. I was always a behind-the-scenes kind of guy and would assist in any way that I could. That led to collaborations with minor/major brands, and in 2013 I was hired by Milady as the editorial reviewer for the revisions of the new standardized barber textbook. I understood the relevance of time and discipline and the dynamics of our profession, and used that to build my own curriculum.
What kinds of things are you teaching at SalonCentric?
Time is the base of our strategy and we've successfully been able to increase our students' value, efficiency and accuracy based on that. I'm not trying to change anyone or the way they do things, but rather show them how to enhance their work with a unique relational concept. Whether it's a barber's own brand or salon entity, we can help you grow by targeting the core of your desires. Not only do we take in the information, but we've been able to give it back baring fruit with personalization and growth, and the response has been overwhelming.
For more information on Barbering Education, email info@barberingeducation.com and follow them on Instagram and Facebook. 
[Image: Courtesy of Jonathan Cifrèdo]