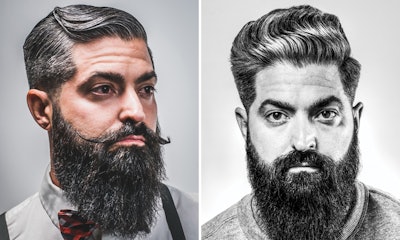 Men are learning that a quick dab of product and a shot of hairspray can easily change their look, mood and confidence. Brothers Angel and David del Solar with partner Aston LaFon, founders of 18.21 Man Made Grooming, experienced this firsthand when shooting their latest collection. "It's interesting to note the power of hair," LaFon observes. "When our model received a new hairstyle during the photo shoot, it made a difference in the way he moved, talked and presented himself."
The same haircut can be styled for work or play with a quick switch for strikingly different finishes. Show clients what products work best for their hair and teach them how to use them. "There are not a lot of things you can change in your life that don't take a lot of money or work," Angel del Solar says. "But hair is one thing that can significantly change your image." Now that's power. 
RELATED: Products for Your Clients Seeking Fuller-Looking Hair
Properly Polished: Angel del Solar applied Pomade to wet hair, creating waves, and finished with Premium Hairspray. "The water-soluble pomade takes a bit to dry, so the hairspray locks the style in place," he says. Del Solar then used Paste on the beard to keep it soft and pomade on the mustache to shape it. On finer beards, however, he recommends using Clay. 
After Hours: Blow-drying hair with a vent brush creates shape and lift at the crown. But it doesn't stop there. Blow-drying longer beards is also becoming popular, according to del Solar: "Using a brush will give it a smoother look. 
RELATED: Modern Military Haircuts with Rikki Hixx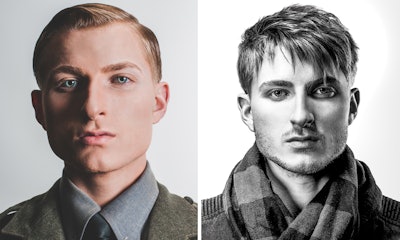 Buttoned Up: For a conservative military-inspired finish, hair was parted and slicked back with Pomade and then locked into place with Premium Hairspray. 
Out of Uniform: Del Solar blow-dried the hair to add height, then applied Clay for a disheveled, touchable finish. 
–by Elizabeth Yong 
[Images: Robert Bogan]