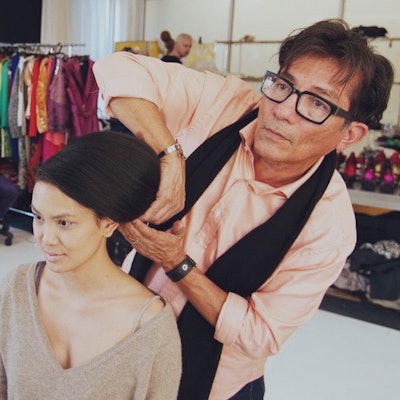 I'll never forget while I was in beauty school and assisting at a shoot I was watching the stylist create an up style like 'magic' in a matter of moments.  He said,  "Sam, if you have the right tools and you practice, you can make any look possible."  I knew from that time forward that I would put the right 'tool kit' together to make my own magic possible. I show up ready for anything and everything!
When it comes to your kit, you need to make sure you have enough to pull off miracles, yet streamline it enough so you don't have to lug around more than you need. Every stylist has their favorite go to items, find out what yours are and then see how multi-functional they can be.  With time and experience, you'll figure out the essentials that will create your own magic. Items such as a 2-in-1 Marcel and curling iron with a removable wand; texturizing shears that remove length and texturize; and bobby pins that can be used for fashion, as well as function.
Another important session kit essential is tried and trued tips and techniques that you can count on in a pinch and that save time. Like using a can of hairspray to set hair:
Brush hair with a Sam Villa Artist Series Polishing Paddle Brush
Lift the section straight out from the head
Spray hair with Redken Forceful 23 hairspray
Place the hairspray can at ends and roll down while smoothing ends under
Gently remove can, pin to secure and spray again to hold
Removing split ends quickly:
Take a horizontal section of hair
Using the #3 hand position, weave the section under your ring finger, over your middle and under your pointer
Slowly slide fingers downs the section with medium tension and cut any ends that pop up on the top layer over the middle finger
Spot finishing hair that can't be washed or get wet:
Spray Redken Iron Shape 11 at the base for thermal heat protection
Using a Sam Villa Signature Series Textur Professional Texturizing Iron, compress sections at the base of head to add volume and natural lift at scalp
Finish with Redken Shine Flash 02 Glistening Mist for ultimate gloss
Your tools and products must have time-tested benefits and shout efficiency while meeting the demands of the project. I also love to have a mood/story board as visual inspiration to keep myself and the team pointed in the right direction.  Expectations can't be met if they aren't CLEAR!
My essentials include curling irons, styling brush, finishing brush, combs, hairpins and grips, elastics, water bottle, and of course my go to Redken's 8 essential styling products geared towards straightening, shine, volume, texture and curls – check them out: https://www.redken.com/products/styling#sort=newest.
Lastly, for me there's a certain necessity I personally must have within a creative workspace to ensure ease of work and the constant flow of inspirational vibes, and that's music…don't forget the music!
Aspire for More,
Sam