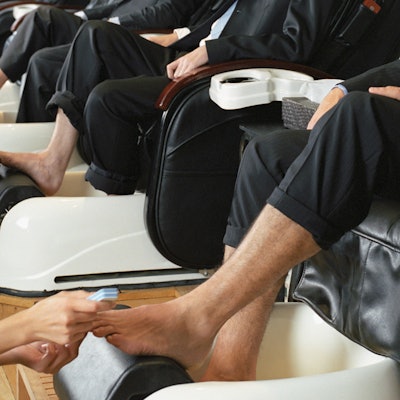 Ensure that your male clients are groomed from head to toe by successfully upselling nail services. 
The modern male thinks nothing of visiting the salon for a haircut or shave, but when it comes to manis and pedis, he might remain stubbornly squeamish, branding them "girlie" or simply unnecessary. However, nails need maintenance just like hair, and having well-groomed hands and feet complete a client's look whether he's a 9-to-5 family man or weekend warrior. "Some guys are very adamant about not getting nail services; it's not on their radar," admits Ginny Rodgers, owner of Studio One Eleven Day Spa and Hair Studio for Men in Wilmington, Delaware. "I say, 'Don't knock it until you try it.' If they don't like it, they don't get it again—but that's never happened!" There are effective ways to ease men into nail services and make them a part of their regular grooming regimen. Read on for expert tips on the best ways to break them in. 
The Power of Suggestion
For Studio One Eleven, the key to enticing men is keeping the nail menu relatively simple. Then, employees can keep on the lookout for scraggly nails or unkempt feet as they provide haircuts, massages and shaves and recommend a service. "If the client has never had a pedicure, we give him the basic pedi at first," Rodgers notes. "But if he needs a little more work on his feet, we advise something more advanced."
RELATED: The Rise of Scalp Micropigmentation
At the unisex LaBella Spa Salon in Albuquerque, New Mexico, men who visit with their wives or girlfriends are introduced to its male-only counterpart, Vincent's Men's Grooming Lounge, with a full tour of the premises. "Whether they express interest or not, we always take male visitors on a tour, which has helped open them up to services they're not used to getting, including nail services," explains CEO Dawn Davide. "Just walking them through the environment and describing what we offer makes them more comfortable with the idea."
Alternatively, you can offer a sneak peek via a quick freebie. When Tom Wilscam founded Paris-based Hommage in 2005, the concept quickly grew in five-star luxury hotels, where males made up most of the clientele. To upsell nail services, technicians (usually female) offered guests a complimentary hand and forearm massage, two to four minutes long, as part of the Hommage Welcome Service. Men loved the treatment, especially after typing on computers and phones all day—and, Wilscam adds, men in general simply want to be touched. "The best way to introduce services is through the technician, therapist or barber," he says. "They're the experts and need to communicate where a man can improve his appearance." 
Education at the Station
Even if men initially shy away from nail services, they're more apt to try them when educated on the benefits—so stick with facts, keeping your pitch transactional and logical. For example, Rodgers explains why it's important to take care of their skin and nails, building trust over the long term. "They're less resistant when you educate them," she says. "If they don't need it, I don't sell it—but I always go right into the benefits. You break them down little by little, and once they realize it's for their own good, they enjoy it."
In the arid, sunshine-laden New Mexico climate, Davide also believes it's her responsibility to educate men about the importance of skin care and nail care. "It's not about fluff, pampering or luxury, but maintenance and survival," she explains. "Men's skin is different and needs to be treated differently, so we select products carefully and explain why we do what we do during the service." 
RELATED: Celebrity Barber Richie Munoz Shares His Top 4 Men's Grooming Must-Haves
Men at Vincent's have also benefited from services when they have more serious issues, such as foot fungus or a nail condition that might otherwise go unchecked. "We've had at least 10 men this year come in with foot fungus and didn't know how to treat it," Davide says. "We have a great relationship with a local podiatrist, so we can refer clients back and forth to address those issues."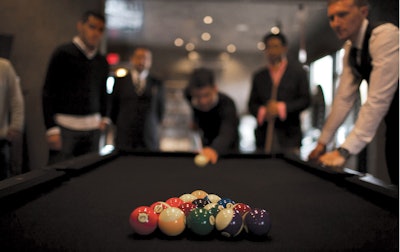 The Right Environment
Davide and Rodgers believe that men are more comfortable—and hence more likely to try unfamiliar services—when they can enjoy a private area, away from women's prying eyes. "It helps them to be in a masculine environment; we have TVs, a pool table, card table, lounge and business center," Davide explains. "And when they see other men receiving services, it's not as intimidating." Then, during the service, providers shy away from heavily scented products; Davide works with local companies for herbs and oils to make custom scrubs that treat men's specific skin needs. "Once they come in, they rebook because they see the benefits," Davide notes. "They're comfortable in the environment, and they know they have an educated provider."
Rodgers agrees that guys feel less intimidated and more relaxed in a private, female client-free room. But they also love attention and want a quality service. "We don't rush our nail services; we take our time," Rodgers says. "We have a TV and offer guests something to drink or munch on, so they can relax or work during the service." 
RELATED: The Top Men's Haircuts for 2017
Wise Words
At Hommage, Wilscam quickly found that using male-oriented language in the treatment menu and service descriptions made a big difference. For example, the menu rebranded manicures and pedicures as Hand Grooming and Foot Grooming. At Vincent's, nail services were renamed Hand Restoration and Foot Restoration in 2015. And Rodgers similarly switched up her approach: "When I told one client about a special on pedicures, he said, 'I would never do that,'" she recalls. "Next month, I changed the wording to Gentleman's Foot Treatment, and the same guy tried it."
Rodgers' menu lists a Sports Manicure, making the service more palatable. "Some people react adversely to the word manicure; some don't," she says. "They're still operating on a manly level, but then they really love the service and say they should have tried it long ago." 
Marketing Management
Vincent's has grown fast thanks to its focus on client satisfaction rather than sales gimmicks, and as a result has snagged its share of "best of" awards in recent years. The male haven promotes a monthly membership, which offers unlimited haircuts, plus 15-percent off services like hand and foot restoration. And Wilscam agrees that the best way to market is through word of mouth. "One guy's testimonial is worth more than 10 ads," he says.
But there are other ways you can encourage men to try off-the-radar services, like nail care. Rodgers has found success with online monthly specials through her website and e-blasts. Meanwhile, Davide markets to her female clients at LaBella, encouraging them to treat the men in their lives with a trip to Vincent's. This year, she plans to introduce an e-newsletter and host wellness clinics for men, such as a stress relief weekend with guest speakers discussing topics like grooming, health and wellness, and work-life balance. "We want o combine business and pleasure," Davide notes. "Men's mixers, where they can learn more about topics of interest, are becoming more popular."
Finally, don't forget the follow up, but remain flexible when it comes to rebooking. "Employees should always ask the clients if they liked the service and recommend when they should come back," Rodgers explains. However, be prepared if they don't commit right away. "Some men book a month ahead, but that's few and far between. They often call up the day of and ask if there's availability. It's a different mentality than women." 
[Images: Getty Images]