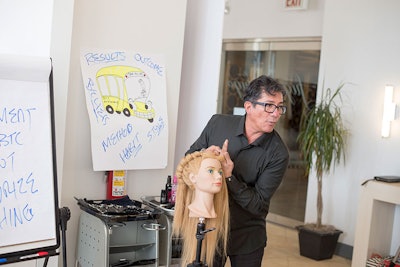 Today more than ever, there are an abundance of options to feed our mind, body and soul through education! What an awesome time for us all to focus on our development as both hairdressers and members of the hairdressing community. But with such an abundance of choices, it's pretty easy to feel overwhelmed (like trying to figure out what to put on your plate at the buffet). So, let's talk about how to navigate this beautiful ocean of education.
Lets first talk about the difference between self-study and working hands-on in a live education environment. Self-study could be online videos, books, DVD's, etc. The massive benefit of this type of study is that it's usually affordable (or even free) and you can work at your own pace anytime you have spare time. I'm very proud that the Sam Villa brand is a huge resource in this area. Our YouTube channel contains over 400 videos of free content and is accessible to anyone, regardless of brand affiliation.  We have massive respect for others like Matt Beck at Free Salon Education who also has an insane library of free content on his YouTube channel. The downside to this type of content is the lack of the trained eye of an educator to support you in discovering challenges as you work.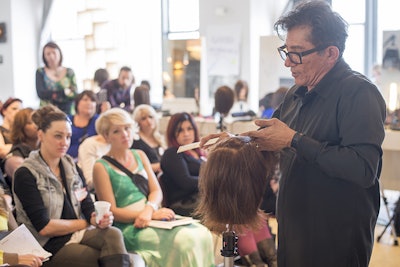 Live hands-on education can carry a decent price tag and usually requires a larger commitment of time ranging from a half day to possibly even a week, if your traveling to an educational facility like the Redken Exchange in New York.  The investment is well worth the deeper level of learning that's waiting for you in these classes. Practicing hands-on with someone right next to you to offer outside feedback always uncovers things that are surprising to the student.  In many of our classes, simple things like hand position or bad combing habits can be the greatest discoveries for even veteran hairdressers, and these are often so deeply set into their bank of habits that they're completely unaware that it's compromising the quality of their work. Plus, you get the benefit of being inspired by your peers within the class and growing your community.  New I find that new friendships happen very often in our classrooms!
"What do I study first??" I get asked this question so often because of the wide range of options…cut, color, blow drying or up styling?  Basics or creative classes?  Live models or mannequins? My question to you would be, "What are your current goals and what challenges are you facing most often behind the chair?"  Use that as a guide to navigate where to spend your precious resource of time and energy.  If you're struggling with men's hair cutting and maintaining the boys on your books, it's time to get into a men's cutting class!  If your goal is to expand your repertoire of long hair dressing, bust out that long hair mannequin and dedicate a night each week to playing with new concepts you find on YouTube.  I do this all the time to keep myself fresh.  As much as we all want to be well rounded, if you don't have a well-defined goal in mind, you may find yourself bouncing around and being frustrated by the lack of progress on any one thing.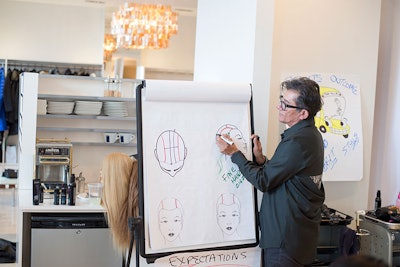 So, here's what I suggest, create a realistic schedule of self-study that supports your goals.  If that means a few hours per week or even just one session per month, something is better than nothing, and consistency will build your confidence level!  Then, create a budget for a yearly hands-on class (or more if you can afford the time and investment).  If you've never been, please trust me when I say that every ounce of your investment will come back to you down the road.  The stylists that make these investments into their career are always the top performing artists in their salons, as well as the most creatively fulfilled.
My friends, education is not an option, it's a necessity for a successful career and long-term happiness in the salon.  Embrace this new era of free education AND be sure to plan for hands-on education.  We are motivated by the passion to teach as long as there are people out there that are motivated by the passion to grow!
Aspire for More!
Sam
[Images courtesy of Sam Villa]