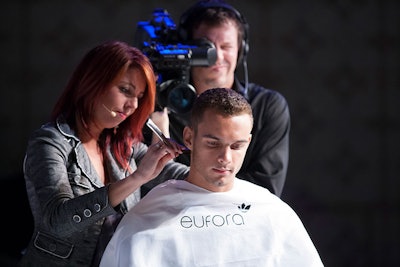 Thinning hair can be a sensitive topic to address with male clients. The right consultation will help your client feel not only more confident in himself and his look, but also your expertise. Dana Caschetta, Eufora HERO for Men national trainer, shares her tips for consulting clients with thinning hair:
In consulting with a male client with thinning hair, I would open up with the question, "What are your needs and concerns?" This will most likely result in him telling me his concern is hair loss or his needs are to camouflage thinning. I would also ask, "What is the history of men's hair in your family?" If he has two to three generations of a receding hairline, he most likely will inherit that, if he hasn't already! And lastly I would ask, "What products are you currently using on your hair today?" Many over the counter men's products are based in petrolatums (petroleum jelly or Vaseline). We have to remember whatever product he is using will most likely touch his scalp, so using something that is not water soluble can clog up the follicle of the hair and create premature balding. All of the Eufora Hero for Men products are petrolatum-free, as well as contain a technology to treat and prevent premature balding. Explaining to our clients the difference in over the counter products versus professional grade product can be crucial in the potential thinning process. 
 
Offer suggestions for their look as well. If a male client is thinning in the front, I would recommend cutting layers in through the sides so as they combed their hair over the layers would fall over the recession and hide any problematic areas. Try using a matte finish product if someone is thinning towards the back. The last thing you want to do is add shine to an already shiny bald area. I think there is something to be said about aging gracefully. If a man is truly reaching to camouflage his hair loss, I would recommend to him to bite the bullet and opt for a very short look, like a skin fade. He won't have to worry about hiding anymore, but rather embrace the new look.
[Image courtesy of Eufora]