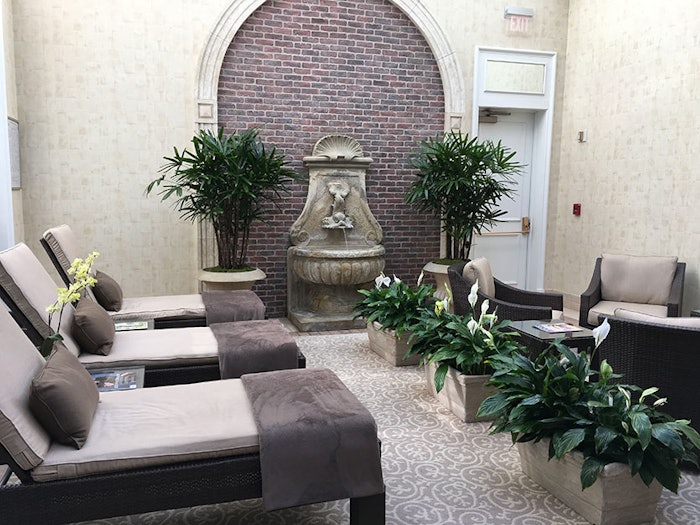 The Park Hyatt Aviara offers lessons in customer service and the luxury experience.
When it comes to embracing beauty, not only does the Park Hyatt Aviara offer top-notch spa and salon services, but it also bestows the opportunity for guests to get beautiful from the inside-out with wellness initiatives seamlessly integrated throughout the property's various features. From healthy food options, to yoga to the Veravia program, guests are bound to find the Aviara an invigorating oasis that will send them home glowing. The resort sits atop a high ridge on the shore of Batiquitos Lagoon secluded amid 200 acres of rolling valley along the gorgeously green and sunny Pacific Coast, energetically setting the scene for a special experience. We take a look at what makes the Park Hyatt Aviara an all-around destination for beauty and what we can learn from it to up our game as professionals.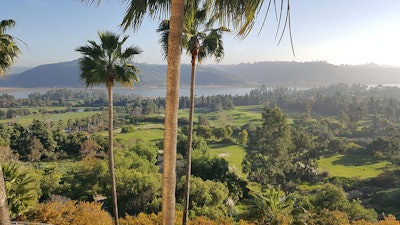 Customer Service is Key at Park Hyatt's Haim Salon
"Service, service and more service," is Haim Knister's salon philosophy. "This is what we do. Customer service is important for us." The owner of Haim Salon at the The Park Hyatt Aviara in Carlsbad and Eufora educator has been in the salon business for about 40 years and has seen many changes over the years. "Many can cut hair, but not everyone can service right. That's a whole energy that we focus on being at a five star resort." Haim reveals that it was important for him to learn about how to serve as part of the resort and to understand the hotel business. You constantly have to be at the top of your game, even when challenges arise.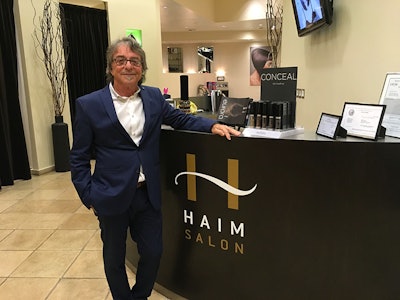 Haim Talks Retail
Stylists and estheticians often think that since they are artists, they don't have to be salespeople. Haim reminds us that beauty professionals sell all day long whether they like it or not – they sell styles, color, makeup and more. One of the challenges with getting stylists to be better at retailing in the salon is that selling is not easy because you don't want to feel rejected. Recognizing that the sales aspect of the salon business is difficult, Haim salon trains and coaches stylists on the process from the moment they begin at the salon (not with a hard sell, but with a soft approach). The salon also mentors stylists on greeting guests from the initial meeting to the consultation to recognizing clients' needs. The front desk staff is trained to know the salon's products inside and out as well.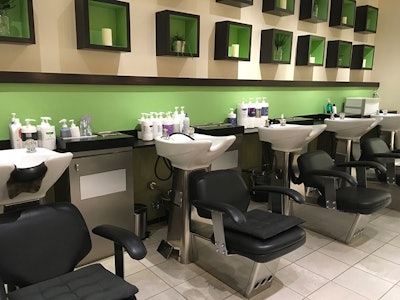 Tool Night
Tool Night at Haim Salon is an event that offers guests a way to feel even more confident about the way they look, all while unwinding with friends. Clients and their pals are invited to bring in their tools and products, so that the salon can give them tips on how to style and maintain their own hair between services. The salon also uses the time to make product recommendations and offer further hair guidance. It's an opportunity for customers to learn from their stylists and join the salon for a fun night out enjoying wine, hors d'oeuvres and good hair. For more details about Haim Salon, be sure to pick up the May edition of Beauty Launchpad!
The Spa at the Park Hyatt Aviara
It is clear that attention to customer service is not just Haim's personal philosophy, but a reoccurring theme throughout the resort's offerings. Brittany Chaffin of the Spa at the Park Hyatt Aviara explains that the spa presents not only a luxurious experience, but also a highly tailored one for each individual guest. It's a bespoke experience characterized by attention to detail and customization, rather than cookie-cutter services. "It starts at the reservation process. You'll notice that our associates ask a lot of questions to make for a seamless experience for the guest so that the therapist knows walking into it what they can offer to the individual to make it as special as possible and to make it exactly what that person needs."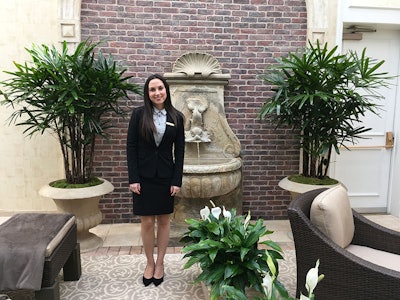 Brittany's Tips: "Listen to your customers and clientele." Brittany tells us that there are certain packages that the spa put together because they were getting inquiries from the community asking if they offered various services. "It gets your gears grinding and you want to think and be creative in what you are offering. You certainly want people to have what they would like while being true to yourself." Brittany shares that it is also important to listen to therapists and staff because they are invested in what they do. "We want our therapists to be passionate about what they are doing because guests can feel it with their touch."
Services
Many of the services at the spa incorporate locally sourced ingredients or are made to be unique to the spa. For instance, the Coconut Sugar Scrub is one of the spa's signature services. It was created by the therapists that work there and it is sourced from the local region with organic ingredients. "It smells good enough to eat and is absolutely decadent. It's almost like 2 services in 1," Brittany raves.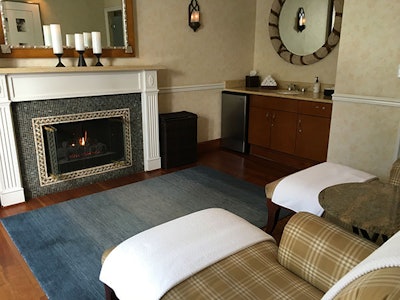 For couples, the spa offers side-by-side services that include champagne and a culinary treat. Couples or friends can reserve private spa suites where they can enjoy their own cozy secluded room with a fireplace and outdoor space with a relaxing jaccuzzi.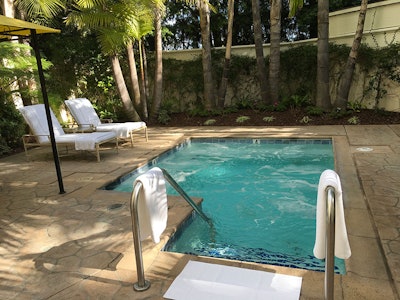 Healthy Options
The spa works directly with the culinary team to offer snacks and introduce seasonal treats, working with the Aviara's Chef Pierr to offer after treatment delights. Brittany shares a current example: "Now we are offering Chia Seed Pudding with a Pomegranate Reduction. It's high in anti-oxidants. We try to offer something that is good for you and will promote your wellbeing."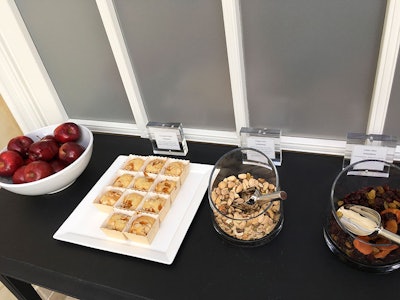 Training
About every two months the spa offers a training for its estheticians, mostly through Eminence. Education is not just for the therapists, but also offered to the front desk staff about every three months. We asked Brittany about the spa's approach to selling products in retail and offering a way for guests to take home the experience. She shared, "Our estheticians are skincare professionals and they want to encourage people to take care of their skin at home. We don't want to dismiss or take away from products that they are currently using because those are products that they are already invested in. We want to provide them with any part of their routine that may be lacking and give them a professional experience." 
Brittany stresses the importance of listening to guests. The staff is trained to listens to clients' skincare goals and what they want to take away from their experience.
VeraVia 
One of the most unique programs that the Park Hyatt Aviara offers is the VeraVia program. This wellness program aims to help guests find mind-body balance and build a better quality of life. The comprehensive program can be used to gain control of stress management or improve physical health. The program offers medical, fitness and nutrition components and can last anywhere from three days to weeks, depending on the guest's desired goals and time commitment.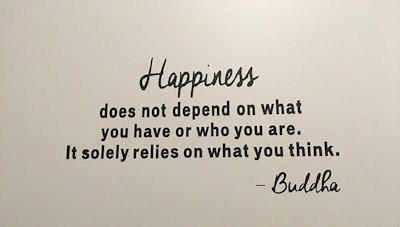 The Park Hyatt provides a five star adventure that you just might want to experience for yourself. Visit The Park Hyatt Aviara for more information.
Almond Milk Chia Pudding with Pomegranate Reduction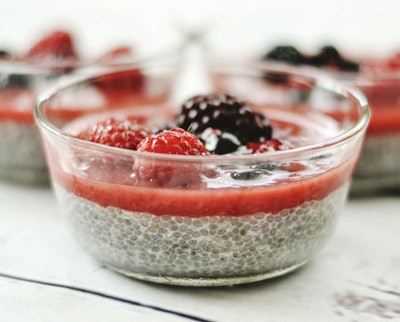 Ingredients
4 cups almond milk 
½ cup chia seeds 
Orange zest (to taste)
1/4 teasp Holiday spices
Honey (to taste)
To Finish
2 tbsp toasted almond sliver
2 tbsp Pomegranate reduction
For the Pomegranate Reduction 
2 cups pomegranate juice
1/3 cup sugar
1 tbsp lemon juice
For the Spices
1 ½ tbsp grounded cinnamon
½ teasp grounded cloves
½ teasp grounded cardamom
½ teasp grounded nutmeg 
Directions
Warm-up the honey and mix all the ingredients. Let sit overnight in the cooler. When serving sprinkle roasted sliver almonds and drizzle pomegranate reduction on top.