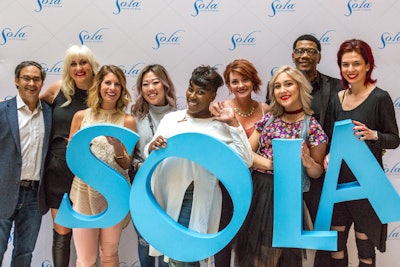 ​Sola Salon Studios kicked off their exclusive "Sola Sessions" event to a full house on Monday, February 13th in Dallas, Texas. With over 200 Sola stylists in attendance from 16 states, the day was filled with expert education on styling, marketing and business topics to enhance the careers of every Sola professional.
The Sessions are all about inspiring, motivating and educating Sola professionals, while also learning from and collaborating with others in the dynamic beauty community. The lineup included business and inspiration topics from Nina Kovner of Passion Squared; marketing topics with Sola's own VP of Marketing & Education, Jennie Wolff; cutting and barbering techniques by both Steven Lightfoot and John Mosley of Hattori Hanzo Shears; and 12 beautiful color techniques by Leah Freeman from L'ANZA Healing Haircare. Vendor partners Hydropeptide, KLASS Beauty, Product Club and State/RDA were there to provide skincare, make-up, salon sundries and more!
Throughout the day, nine prizes were awarded to participants that included a free week of rent from Sola Salon Studios, Hattori Hanzo Shears, a KLASS Beauty airbrush machine and a Product Club foil dispenser among other great items.
The next EXCLUSIVE Sola Sessions event will be held in Washington DC on Monday, May 8th at the Tysons Corner Marriott. Tickets are on sale beginning Monday, March 6th at $99 (valued at $300) and includes education, swag bag, prizes, vendor expo, lunch and happy hour. Tickets are on sale now!
For more information, visit Sola Salons.