"Whether they're grilling the perfect steak, pairing their favorite bourbon with the ideal cigar or admiring the finishing touches on a custom café racer, your clients know how much details matter. Grooming is no exception. At City Barbers, whatever we can do to offer a more complete and detailed service helps to build relationships and strengthens the shop's brand. Giving a gentleman a full-service experience is the difference between 'grooming' and 'just getting by.' And true grooming includes the eyebrows.
"For me, trimming the brows provides the added value that shows our clients we recognize how precious their time is. I don't think any of our barbers would hesitate to bring up an eyebrow trim [if its needed]. Some guests may mention it on their own but, more often than not, their spouse/partner makes it a priority. If you do recommend brow work, as with any sensitive topic like thinning hair or a bit more salt than pepper, you should discuss it with respect and professionalism. That's how we build trust with our clients. They leave it to us to keep them looking their best."
>TOOLS OF CHOICE: Sam Villa Artist Series Detail Comb; Sam Villa Signature Series 5.5 Swivel Shear
BOYD'S CLIENT TIPS
"Grooming eyebrows isn't just about cutting them off; eyebrows add character. Don't cut without a plan! First, take a step back and get a feel for the big picture. The eyebrows are just one piece of the puzzle along with face shape, bone structure, and balance between the haircut and facial hair. Only after you've decided how to best customize the brows to your guest's style, grab some small, sharp detailing shears and a small detailing comb. (I love having a swivel option like the Sam Villa Signature Series Swivel Shear for fine detailing like this. For the comb, Sam Villa Artist Series Detail Comb is excellent for controlling the hair and acting as a guard between the sharp shears and the guest's skin.) Use a comb of a contrasting color (think: white comb for dark brows) to clearly see the fine hairs that need to be cut. You don't just have to move the brows up and down with the comb; the fine teeth of the detail comb are acting as an extension of your hands and fingers.
­ "To maintain control when trimming brows, I like to brace myself on the guest himself and brace my shears hand to the comb hand. The contact creates confidence for us both and lets the guest know where I am and what I'm up to. Chances are, he is very relaxed and may have his eyes closed at this point, so contact is key.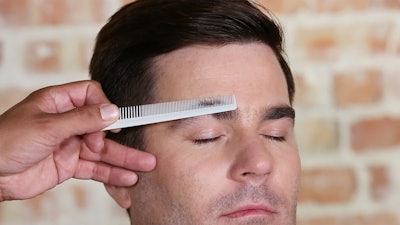 Want more men's grooming tips? Get tips on how to trim a beard HERE.
[Images courtesy of David "Buster" Boyd]