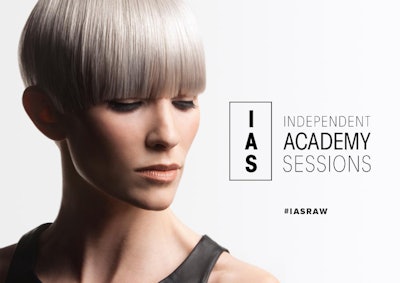 by Eric Mokotoff, IASRaw founder and producer
Education, education, education; it's the single most important tool for salon professionals. Salons and salon professionals are simply more successful when committed to ongoing lifelong education.
The face of education has changed a lot over the past 15 years. It used to be a salon would purchase a pre-pack from a company/distributor and they'd get an all-day, in-salon, hands-on conversion class with models and the more they bought, the more frequent the education, along with perks for shows and academies. This was when education drove sales, and educators drove the companies. It's just not that way now.
In recent years, we've seen the shift to a more sales-driven approach: diluted content and not much more than product knowledge hiding behind sales. Gone are the days when an educator could work full time teaching in salons every day of the week without the need to be behind the chair. This all changed in the late 1990's and early 2000's. I was one of them, and have been dedicated to redefining education and have remained a true purist. It's in that purity that IASRaw has dwelled inside of me all these years and is now ready to come out.
IASRaw Independent Academy Sessions is 100% raw, unsaturated, education without the sales push because it's a 100% non-branded need for the industry. In recent years, and especially through the digital/social media age, we've seen a huge push towards this thing called "independent." Simply put, independent education implies a non-branded, no manufacturer based color or cut class where the content is driven by itself with no support from a specific company. The educator is the creator of the content, owns it, promotes it, delivers it, etc.
Independent education has not affected brands' sales; if anything, it has increased sales and erased the lines of exclusivity to one brand. Now, more than ever, salons and salon professionals are exploring and reaching for a huge diversity of product choices, no longer committed to one single brand.
Currently, hair color is top of the demand game in education, followed by cutting, trend and business. The goal is to improve skills, inspire, and increase earning potential.
So, where do you go for education? Trade shows are the largest arena but are the most sales- and brand-driven venues. In-salon education provided by a company is more scarce and basic than it once was. Distributor-based classes have better content but are still brand specific and sales-driven. Company stores offer watered down content in exchange for takeaway products. This leaves either online education or seeking out an independent educator where you can hand select your content. But no two independent educators or events are alike.
So, what makes an independent educator? On one hand, it's life after a manufacturer for many. Here these professionals have had the training in presentation, technical, content and self-branding. These are the pros at the top of their game who possess the most skill, knowledge and experience. We've certainly seen some top named artists venture out from their years with a single brand and even create their own brand of products alongside their brand of education and delivery.
We also now see a new generation of very talented people who share on social media, make videos and offer in-salon classes by way of a host salon and local ticket sales. Many of these are self-created, very motivated and driven people but they do not always possess the experience and skills to present and deliver what they are excellent at. Make no mistake, their work and marketing skills are amazing, they are fabulous at social media and creating an audience; however, some fall short in the ability to deliver and present and engage. The costs are high and some of the feedback is that these self-ordained educators are not giving an equal experience for the dollar.
Finally, we've also seen the shift from tradition business models to independent salon professionals by way of booth rental models.
IASRaw's goal is to bridge both worlds of education together, and to bridge both business models together. The mission of IASRaw is Unity through Education. Regardless of who you are, or where you are in the industry, IASRaw is going to deliver a classroom-to-stage experience, allowing attendees to take the stage to the chair. There is nothing editorial or unrealistic about what IASRaw is going to give to its attendees. We want people to walk away with concrete, no holds barred education — without sales getting in the way. We want salon professionals to be inspired to go back to their salons with knowledge and exposure in color, cutting, updo, business, new technologies, and renew their desire for continuing education.
The lineup for this unique and much needed educational event was carefully and strategically choreographed. The history of hair is at the heart of IASRaw, and can be seen every Thursday online on the IASRaw Facebook page.
Without knowing where we have come from, we can't move forward. With this in mind, IASRaw boasts five generations of mega hair talent in one nine-hour day!
The main stage consists of the legendary Robert Lobetta, who has changed the face of hairdressing and interpretation like no other. He is one of the most prolific and influential living hairdresser of all time, and was recently awarded a Lifetime Achievement Award.
Albie Mulcahy is an icon and legend as well. His work began with the legendary Paul Mitchel and then took him to New York City where he was the right hand and top stylist of the late, great John Sahag. On the main stage, he will showcase the true art of dry shaping.  
Alessandro Sturaro, international colorist from Italy, will work alongside Albie, teaching color shaping.  
Charlie Price, two time NAHA International Hairstylist of the Year winner, and a regular backstage at New York Fashion Week will also take the main stage. Charlie has seen his work published worldwide, is the founder of Beauty Underground Magazine and has appeared in the television shows Shear Genius 2 and Global Beauty Masters.
Misael Aponte is a color genius who has shared his patented Art of Color Placement and Technique at all the major shows and at the ABCH American Board of Certified Colorists Annual Summit.
Vince Smith a heavyweight colorist from New York City who will share his techniques in creating natural color and balayage.
Philip Ring speaks to the new generation of hairdressers with his incredible and innovative pixelated hair color techniques. His work has become viral online in the vivid/pastel color world.
Eric Charles Mokotoff brings 25 years of hair color education and is the creative force behind IASRaw and getting this amazing team together.
In addition to the main stage, there will be breakout sessions by some incredible boutique style companies who have so much to offer our industry. Breakout session include look and learn session in color, cutting, and business.
We absolutely need manufacturers. We need new young companies to offer new insight to the future of products; we need new technologies and they are allowing educators to pave the way, placing education above sales as it will be the driver of all things.
 
IASRaw is proud to have Beauty Launchpad and The Colorist supporting this event along with The American Board of Certified Colorists ABCH. IASRaw sponsors include: Olaplex, Hanzo Shears, KIN Color, Primary Syn, Inspiring Champions, Alter Ego North America, All Nutrient, California Glam, and Eslabondexx.
The 1st Annual IASRaw takes place February 5, 2017 at the famed Delray Beach Marriott Resort in Delray Beach, FL from 9am-7pm. For more information, as well as how you can attend this inspiring event, please visit www.isaraw.com.