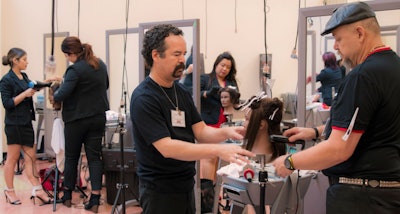 The CHI Academy recently hosted its annual Certified Educator Training. Seventeen hairstylists from various cities in Texas, Florida and Mississippi were in attendance working to become Farouk Systems Educators. Participants included: Lindsey Canizalez, Sheena Allen, Luis Enriquez, Scarlett Baucum, Jennifer Crites, Nedra Millet, Chantal Zaccagnino, Stephanie Hargett, Brittany Harold, Scott Brown, Alana Palmer, Elizabeth Rojas, Karly Heckers, Rebecca Rivera, Oscar Vela, Salvador Rangel and Kiana Borth.
The educational training was conducted by Michelle Boudreaux and Renee Montgomery who are both regional trainers for Farouk Systems. Each attendee received hands-on training in color, lightening techniques, cutting and styling as well as various levels of product knowledge that covered both tools, color and styling lines. Afterwards, they went through an extensive testing process on, not only what they learned during the training but, also on their individual presentations. This helps to determine their ability to deliver the company's high standard of education in front of a crowd.
At the close of the training, attendees also had the pleasure of meeting Dr. Farouk Shami who came to congratulate them on passing their exam and sharing how exciting their future with Farouk Systems will be.
As recent graduates, they will move on to become teammate level educators. They will be invited back to attend the Teammate Level Training on November 6th and 7th, 2016. There, they will receive additional education and preparation as they embark out in the field. This program also helps to move up to higher educational levels.
For additional information on becoming an educator for Farouk Systems, contact the education department at 800-237-9175.