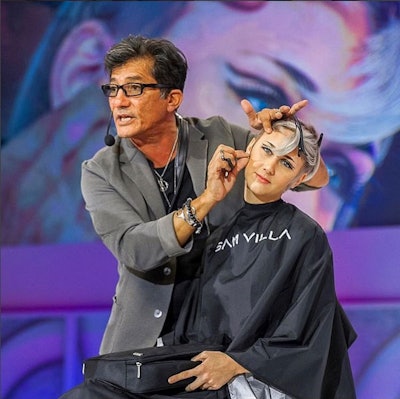 So, you're thinking of becoming an educator, a platform artist, a teacher? Let's talk about that as many people ask me, "Why did you choose this career path?"  Someone once said, "What's a hairdresser going to learn from someone who decided his or her best option in life was to become a teacher?" …and another, "Sam, you are a hairdresser who teaches other hairdressers…so what do you make?"
You want to know what I make?  Well, I make hairdressers work harder than they ever thought they could. I make executing a haircut easy, so stylists can do it with their eyes closed. I can make hairdressers sit through a two hour program, when in most cases salon owners can't get them to stay for an entire class without an iPod, iPone, texting etc.  I make hairdressers wonder how they can do what they already know in a new and different way.  I make hairdressers learn how to listen and how to ask the right questions. I make them have respect for the industry and take responsibility for their actions. I make hairdressers' creative curiosity rise. I make them understand, in a simple way, how to do it and then do it again.  I make them love what they do and want more. I make them share and love their job. I make hairdressers from other countries learn everything they need to know to be successful behind the chair while preserving their unique cultural identity.  I make my classroom a place where all my students feel safe.  Finally, I make them understand that if they use the gifts they were given, work hard and follow their hearts they can succeed in life.
When people try to judge me by what I make, I hold my head high and pay no attention, because they just don't know any better.
You want to know what I make?  I MAKE A DIFFERENCE…what do you make?
Still interested???
Ok then, let's talk about the how, because another very frequent question I'm asked is, "How do I become an educator/platform artist/teacher?"
Education is as much a skillset that needs to be studied and practiced as the technical aspect of hairdressing itself.  So, you must find a place to learn how to teach effectively… sharing your work is not necessarily teaching.  Teachers are facilitators of learning, providing an audience with the information and tools they need to master their own skill set.  Here are a few ways to start your journey:
Find a manufacturer that will allow you to shadow or assist at classes and shows.
Connect with the schools in your area to see if they need help.  Many times, these schools will reward you with training even if you're only working there part time.
Attend classes on developing your skillset as an educator.  I teach a class at the Redken Exchange called "Center Stage" where we share the secrets of why Redken Education is considered one of the best in the industry and we give stylists an opportunity for hands-on coaching!
Trial by fire method – set up a class in your own salon where you share something you've discovered and then ask them for fearless feedback at the end of the class.
Here are some tips for educators and platform artists:
Being a platform artist requires patience and investment in growth…as a teacher you must never cease to learn.
It's about being interested in an audience rather than trying to be interesting. As a teacher in today's world, be interested in what your audience needs.
Check in with your "ego."  If you want to be a teacher because you want to be famous and impress others with what you know, check your intention.  An audience needs to feel that you're there for them… people don't care what you know until they know that you care!
Put yourself out there, even when it's scary…no one grows in the comfort zone.  Yes, it's scary to do a YouTube video demonstrating a braid.  Yes, it's scary to do your first guest artist class at the local hair school, and yes, it's absolutely terrifying to step out in front of an audience of 5000 people that just want to learn.  But, every single successful person in the education department of our industry has had to face and overcome those fears to get to where they are today!
Being a platform artist/teacher is not easy in today's world, it demands broad knowledge of subject matter, curriculum, and standards; enthusiasm, a caring attitude, and a love of learning; knowledge of discipline and facilitation management techniques; and a desire to make a difference in the lives of people.
So, if you are ready to make a difference in this industry by changing peoples lives behind the chair, take the first step, be patient, be relentless, be open, be humble, and most of all, be ready to give everything you have to every student!
Aspire for MORE!!
--Sam
[Image courtesy of Sam Villa]