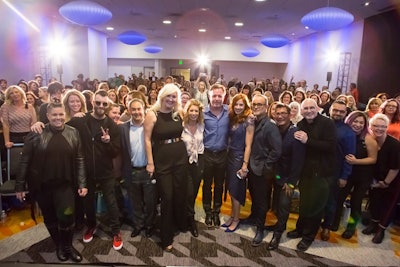 Sola Salon Studios is going big for its third Sola Sessions event of 2016, increasing the number of attendees and expanding education opportunities into the nail, makeup and skincare fields. The event, which is exclusive to Sola entrepreneurs, will be held on September 12, 2016, at the Hyatt Regency Newport Beach, California. Sola sold out its first two Sola Sessions in Denver and Minneapolis, respectively, and due to increased demand from Sola entrepreneurs, expanded the event to accommodate more members of the Sola network.
"When we launched the Sola Sessions earlier this year, we did so with the intention of offering Sola entrepreneurs with the very best education opportunities in the industry," said Ben Jones, Sola's Chief Executive Officer. "The decision to expand this event to be inclusive of all specialty areas, and not specifically on hair, is another step that we're taking to make our Sola community even stronger. Over the last six months, we have had stylists, nail technicians, estheticians and makeup artists join Sola and sign leases in advance just so they could participate in the Sola Sessions. That in itself speaks to the power that Sola has in our industry."
The Sola Sessions in Newport Beach will feature a variety of prominent panelists and presenters, including DJ Muldoon of theFactory; Kelly Ehlers, the founder and president of Ideas That Evoke speaking on behalf of Wella; Carmody Homan and Justin Isaac, of Redken; Luis Alvarez, of Aquage; as well as Nina Kovner, of Passion Squared.
Leading brands including CND, Dermalogica and KLASS Makeup all are contributing to the expansion of the Sola Sessions with demos, presentations and educational materials for Sola pros.
Attendees will also have a chance to enjoy a few mindful moments in between sessions with yoga practitioners, as well as a mix 'n' mingle cocktail hour with industry leaders, a nod to Sola's commitment to making sure its studio owners have the resources they need to pursue healthy lifestyles and personal wellness.
The Sola Sessions are one-day events held at different locations across the country that act as part of a larger initiative created by Sola to provide the best in education and networking opportunities exclusively to Sola stylists. As part of this commitment, Sola provides studio owners with exclusive access to some of the biggest names in the beauty industry.
Jennie Wolff, Sola's Vice President of Marketing and Stylist Programs, said Sola professionals who attend will get a huge dose of positive inspiration coupled with the best education in the industry. "Adding education opportunities in in the areas of nails, makeup and skincare, was a no-brainer that will bring a new and exciting twist to the Sola Sessions," Wolff said. "This is going to be the biggest, most diverse group of Sola entrepreneurs in one location all at once than we've ever seen, and I can't wait to see the awesome results, connections and lessons that come out of it!"
For ticketing information and more about the biggest Sola Sessions event yet, visit www.solasalonstudios.com/sessions.