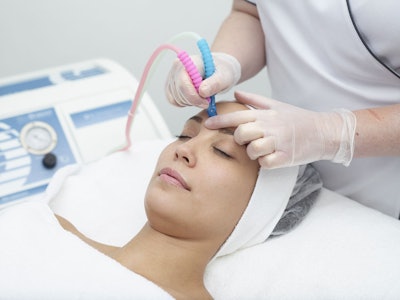 Dermalogica recently announced that the renowned skincare brand will offer a new class for professional skin therapists that will provide hands-on experience with electrical modalities. The "Dermalogica with Professional Technology" workshop is designed to help professional skin therapists become confident selecting and incorporating the best technology and electrical modalities for their clients.
Today's marketplace is flooded with medical and non-invasive skin care treatments, and with so many equipment options and technological advances with electrical modalities, it can be difficult for professionals to determine which devices are best for their skin center and their client's needs. Dermalogica's new class will allow skin therapists to dive deeper into the science behind ultrasound, microcurrent, microdermabrasion, skin needling and the increasingly popular LED treatments to give them a competitive advantage.
The class will also go through key professional Dermalogica products to use with each modality and how to incorporate them into a skin treatment. Skin therapists will leave this hands-on workshop with advanced treatment protocols that combine the hottest modalities with Dermalogica's advanced product formulations.
"Dermalogica with Professional Technology" will be offered at The International Dermal Institute (IDI) locations, starting January 2016, free of charge to all Dermalogica accounts and its employees.
Professional skin therapists may register by visiting www.education.dermalogica.com.