Our 8th annual 30 Under 30 spotlight highlights the next generation of colorists — all under age 30 — who are poised to take their careers to the next level. Hailing from coast to coast and different countries, these color experts comprise an eclectic 2020 crew. We learned about their lives and hue loves, who motivates and what inspires them, how they got started and where they hope to go. Cristen Kelso (@cristenkelso) is 28 years old and owns Enlighten Hair Studio in Miramar, Florida.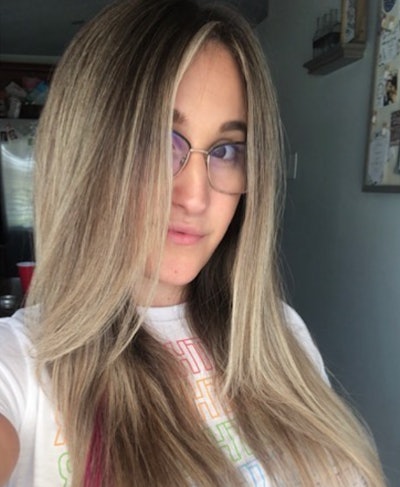 What inspired you to become a colorist? 
I've always loved hair and all things beauty from a young age. When I first got in to the beauty industry, I went the makeup route for a bit. I loved being able to transform people's look from start to finish. When I started working in the salon, I learned how to do the same thing with hair color and I fell in love! It was so exciting to me (and still is) to be able to customize a look for someone by changing up their hair color. Sometimes even the smallest changes make a big impact.
What are your goals?
To educate. Its something that I have always had in the back of my mind but have not explored yet.
Any accomplishments so far that you're most proud of?
This year, I opened a hair salon with two of my best friends, who are also hairdressers! We have made it our little hair home. It wasn't an easy journey but so worth it, we have put so much love in to it and I'm so proud of it.  Also, making 30 Under 30! I feel so honored to be chosen amongst so many talented people.
What do you love most about being a colorist?
Being able to push beautiful women outside of their comfort zones and give them even more confidence with fresh color! It's amazing to see how good they feel about themselves after getting color services done, from gray coverage to a head of highlights. It feels really good to be part of that process for them. I also love that there is always something new to learn.
What's your favorite color trend/technique of the moment? 
Teasylights and lived-in color. I love how there are so many ways to achieve a teasylight look, from foil placement and bold pops of dimension, it's my favorite thing to do! I also love lived-in color because I'm all for those melted and beachy looks. Plus, who doesn't love low-maintenance color?!
Who or what inspires your color work?
Living in South Florida, I'm at the beach often and that inspires a lot of my color techniques. Offering the sun-kissed look and finishing it with beachy waves. It's effortless and soft!
What makes you most proud to be part of this industry?
That you can always be unapologetically yourself and behind you is a group of clients and fellow stylists who are there to support you. There's always something new to be inspired about or get your creative juices flowing and it's impossible to be bored.