Our 8th annual 30 Under 30 spotlight highlights the next generation of colorists — all under age 30 — who are poised to take their careers to the next level. Hailing from coast to coast and different countries, these color experts comprise an eclectic 2020 crew. We learned about their lives and hue loves, who motivates and what inspires them, how they got started and where they hope to go. Christina Crook (@tina_doeshair) is 25 years old and the owner of The Proper Creative in Orange, California.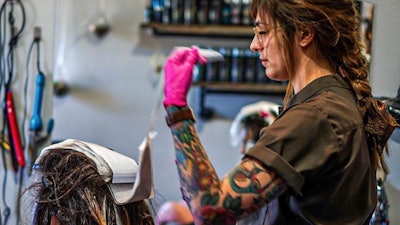 What are your goals? 
I am currently working on opening a larger space with a mission to create an environment filled with love and compassion for each other and a passion for the hair industry. I want to steer away from the salon stigma—drama and cliques and improper etiquette—and provide a safe space where clients and stylists all feel welcomed and comfortable. Where true artists who came into this industry because of the love of hair and the passion can express their art with no judgment, no hostility, no competition, and tons of encouragement. That's my ultimate goal.
Any accomplishments so far that you're most proud of?
Well for starters, being nominated for 30 Under 30 is pretty cool! I am very proud to have worked amongst many talented stylists in New York for New York Fashion Week, I'm very very proud of my clientele and how my business has thrived since branching off to be on my own, and incredibly proud to be working with some of the best brands in the industry: Truss Professional and Oligo Pro.
What do you love most about being a colorist?
What I love the most is the clients reaction when I spin them around at the end of the service to see their color. Of course, I love the formulating and applying and the technical side of color; but I have to say the ability to make someone cry from happiness all because you changed their hair color and made them feel beautiful is the most rewarding.
Who would you consider to be your mentor/role model, and why?
My role model would be Allison Daza. I worked alongside her for a couple years and she is a colorist and educator with Davines. She taught me SO much about color and remains so humble throughout her entire career. She never boasts or brags, but whips out some of the most insanely beautiful and artistic creative colors I have ever seen. She is so educated and so talented, and I aspire to be like her one day.
Please share your top or favorite hair color, prep, or color care tip.
I would say that my top has to be melting colors using a porosity equalizer. By spraying a porosity equalizer on the ends and brushing through your root or mid color, you create a PERFECTLY seamless blend no matter how high the contrast is, with no bleeding and no spotting. This has really elevated my game to a new level.
What's your favorite color trend/technique of the moment? 
Of course my favorite trend/technique right now is Colormelting, it's about 99% of what I do. I never get over how shiny and soft the hair can look, and how perfectly melted and blended it turns out by Colormelting. My clients will come back to touch up their roots eight months later still looking amazing (with toning and haircut appointments in between). When I finish their color and I'm blow drying, I actually amaze myself with how beautiful it really is. I don't think I'll ever get over it!
What makes you most proud to be part of this industry?
What makes me most proud is really being apart of an artist community. My whole family are artists, whether its pottery or painting or makeup, and being in this industry, scrolling through Instagram, going to hair shows is wonderful. What I'm the most proud of at the end of the day is being part of a community of such talented artists with like-minded ideas. It feels good to be apart of something that cool.