Our 8th annual 30 Under 30 spotlight highlights the next generation of colorists — all under age 30 — who are poised to take their careers to the next level. Hailing from coast to coast and different countries, these color experts comprise an eclectic 2020 crew. We learned about their lives and hue loves, who motivates and what inspires them, how they got started and where they hope to go. Marissa Mae Neel (@maeipaint) is a 26-year-old hairstylist and independent educator in Rocklin, California.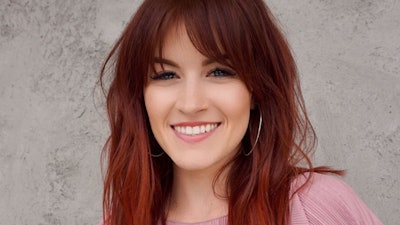 "I've been licensed since 2011 and have been teaching independently for five years. I have been married for almost six years and we have a beautiful two-year-old! I also have four sisters, two of which also do hair! My older sister definitely was part of the inspiration, but honestly there isn't really one specific moment in time where I thought "oh that sounds fun." I always loved to play with hair and I grew up painting and drawing with my grandmother and sisters. My love for all things color started there and once I got into middle school and high school I was always that friend who was volunteering kitchen haircuts and doing prom hair in the bathroom. Once I hit my junior year, I applied for cosmetology school and I was the only person to get in on the last year the state offered that ROP program. It was meant to be! I've always been a creative and doing hair is another outlet for that. I seriously could not be more in love with all things color. The ability to change someone's hair and give them that boost of confidence is absolutely amazing. There are no words for that feeling! I love making women feel their best and feel beautiful. The science part of coloring hair also makes me geek out. I love knowing that I can look at a tube of color and understand how and why it works. I am so proud to be in an industry that truly supports one another. There's so many people who are willing to give and share so selflessly. We are hands down in the BEST industry and I am so lucky to be a part of it!"
On Goals: In the next two to three years I hope to open up something small and intimate of my own, six chairs max. I have this vision that I can't wait to see come to life when the time is right. In the meantime, I'll continue to build my education brand and continue to get my name out there. My long-term goal would be to work fewer and fewer days behind the chair and spend most of my "working days" educating. 
On Accomplishments: In my personal life, 100% my daughter! She's the best thing that has ever happened to me and I am so proud to be her mom. In my work life, I am really proud of the name I have built for myself so far, especially with education. I've worked really hard to create classes and content for other stylists, and their support and feedback has truly been amazing. It's scary putting yourself out there as an educator—you worry, who would want to come/are they even going to learn anything/is the class day going to run smoothly? All these things that could potentially hold someone back from pursuing something they are passionate about, and I am definitely proud of myself for taking that leap of faith. It's not often that I actually say that or talk about it, so it feels nice to actually be like yes, I am proud of myself!
Color Tip: My favorite hair color tip is using a colored deep conditioner to maintain vibrant red hair. It's the best way to get a little refresh in color and a treatment at the same time. I use Alfaparf's nutritive mask with pure pigments mixed in to customize the color for myself and my clients. 
Favorite Color Trend: For a long time I've always loved natural-looking hair and creating it. I love the ability to create these lived-in looks for my guests so that they're hair not only looks great when they, but also when they come back three to four months later. I definitely don't think this style of hair is going anywhere, anytime soon.
What Inspires You? Definitely nature. I am obsessed with looking at a virgin head of hair and seeing all of those natural highlights from the sun. As far as who, I am constantly inspired by @chrisweberhair and @lo_wheelerdavis.