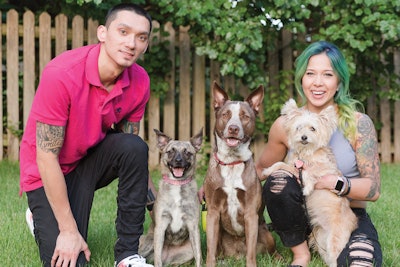 1. Faith: Through all of the roller-coaster events in my life, my core belief system has been a driving force. It has also been my motivation to press on even when I cannot see the light.
2. My Husband: Andrew has believed in me from the beginning, even when I doubted myself. Together, he and I have been able to accomplish many of our dreams as we push each other to be the best versions of ourselves.
3. My Family: They are my happy place where I can be accepted and loved without judgment.
4. Giving Back: Our biggest goal at With Love Salon is to change the world, and we regularly host events to benefit our community. Through this outreach I've found inspiration in a whole new way, with my end goal being to make the world a better place.
5. My Pulp Riot and Olaplex Teams: I am a part of two companies that have pushed me to grow both as an artist and as a human being. The people I've met and grown close to are lifelong friends, and some of the most brilliant artists I've seen.
6. With Love Salon: My husband and I share With Love Salon [in Kansas City, Missouri], which is our baby that we've been growing for almost two years. The energy and talent from the stylists that work here motivate me to try my hardest.
7. My Pups: Owning animals has been a constant reminder of pure love; they're an inspiration to love harder and to care for others with your whole heart.
8. Travel: I need to travel—I find myself through the experiences of seeing new places and trying new foods.
9. Photography: I've always appreciated the composition of art, especially through a photograph. Seeing hair and faces through the lens of my camera makes me appreciate my work on another level.
– As told to Alyson Osterman-Kerr
[Images: Courtesy of Kat Collett]