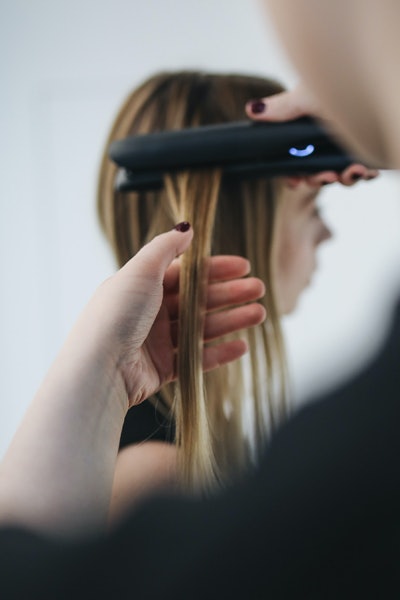 We posed this question to you on Instagram, and here are some of our favorite responses.
@bespoke_hair_by_ariana: On a high school choir trip, while everyone else was sneaking into each other's rooms to get some snuggles, I had people coming to my room because I brought three bleach kits from Hot Topic and called room service for foil! I essentially painted on pieces and foiled them, and we all rocked our hair the next day at Disneyland. Never really thought anything of hairstyling other than "it's fun," but after being a hair school model for my friend, I signed up for hair school.
@erin.mills: I failed forward! When I got waitlisted trying to get into nursing school, I immediately said, "I'm going to hair school!" I had always wanted to go, but many people around me encouraged me not to. But I did it anyway!
@stephanie_hairstylist_harvey: I wanted to be a hairdresser my entire life, but only the "bad girls" who smoked did that in school and I didn't want to be associated with them. So I went to college, got married and had kids, and at 40 years old decided to follow my dreams and go back to school. I'm so happy that I did! I love my career and even though I'm "old" I'm not burned out! It's never too late.
@theconfidentcolorist: I wish I had a glamorous answer. I was 15 years old and became pregnant. I was already in a dropout prevention program for "bad girls," and our school was located on a vocational campus. My school principal was the first person (besides the daddy) who I told. He said, "Well, you have a tough choice ahead of you." I thought he was talking about the pregnancy, but he followed up with: "You can be a statistic, or you can be a smart mom and continue your education." He told me that I should take advantage of my situation and enroll in technical school. He toured the campus and options with me, and suggested beauty school because I could complete it in time for the baby to come. He supported me all the way through, always checking on me and telling me he was proud of me. The positive reinforcement of one person is the reason I'm not a statistic. My daughter is 30 years old now and in medical school, and I swear that defining moment changed the course of my life. I fell in love with hair because I was able to encourage and support others the way my principal did for me. Doing pretty hair is like a bonus. The real skill is that we have the potential to change someone's life simply by having the opportunity to connect.
@feliciapearyyy: When I was a sophomore in high school! I always wanted to do hair but was scared of the idea that "hairdressers don't earn enough." Then my dad, my biggest fan and supporter, told me I needed to follow my passion and that success will follow once you are doing what you love. He pushed me all the way through beauty school! Unfortunately he passed away unexpectedly the same day I took my state board test. I had called him to tell him I was scared I failed and he reassured me everything would be fine. Sure enough, on the day of his funeral I received my notice that I had passed! He always was and always will be my biggest fan.
@hairxrhi: I knew I wanted to become a hairstylist when I was 14 years old! I was in a tragic car accident and had to get my left foot amputated. At the age of 14 that isn't something to overcome easily! While I was in the hospital (two months or so) my hairstylist at the time came up and colored/styled my hair. The boost of confidence I gained from just having my hair done was unreal. I felt like myself again. That's when I knew I wanted to make people feel beautiful, even in tragic times. My hair has always been a security blanket and gives me confidence when I need it the most! Fifteen years later I'm my own boss and get to witness everyone in my chair leave feeling beautiful! That's how I know I'm where I'm supposed to be, doing what I'm supposed to be doing.
@lipstick_hairandmakeup: When I lost my job as a flight attendant and escaped from my ex and his violence. I realized when I was in school that being a hairstylist gives me a lot of peace because I can create and give happiness to others.
@josh.does.hair: When my husband told me to go to cosmetology school. Growing up, all I ever wanted to be was an artist. I was scared to go to college not knowing what route to take, so I didn't. And he told me doing hair is an art form in and of itself, and pushed me for three months to enroll. I finally did and I'm so happy; it's the best job in the world.
*Posts edited for length and clarity.