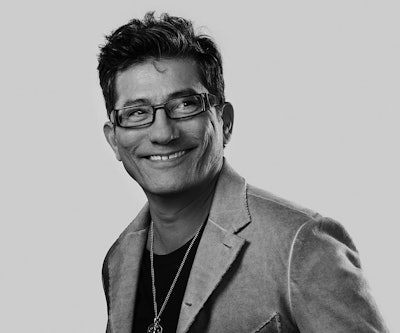 The concept of the influencer as we know it today is still relatively new. After all, the term was only introduced into the dictionary less than a year ago. Nevertheless, in a very short period of time, social media influencers have dramatically changed the way consumers test, purchase and build relationships with brands. And one such influencer, Sam Villa, has just been recognized by the International Hairdressing Awards by being named as the first International Hair Influencer of the Year. 
Not only does the Sam Villa brand produce a plethora of ongoing free, high-quality digital education, Sam Villa himself and his team spend countless hours on the road connecting with people face to face. Villa is focused on producing content with the intent to serve and build a relationship with hairdressers. A certain authenticity that cultivates inclusion, loyalty and perceived value. 
"I would like to thank the International Hairdressing Awards as I am deeply honored to be the recipient of the 2020 Influencer of the Year Award! To be recognized in the influencer world is truly humbling. I will never stop influencing and helping people, it's just who I am: a teacher driven to be of value to an industry that has given me life in my career," says Villa.  "This award speaks to all influencers who commit to teaching, sharing and helping hairdressers be better hairdressers. Thank you!"
The award, which will be presented on February 16, 2020 in Madrid, recognizes the impact and influence of Sam Villa in the world of social media,  both for the total number of followers/impact on a global level and for exerting a positive influence in the industry.
"Social media is truly the center of our brand, we're constantly interacting on Instagram, Facebook, Twitter, Linked In, Pinterest and YouTube to promote a community of inspiration, support and evolution," says Villa. "If we can get people to interact on social platforms in a thoughtful, heart-driven and compassionate way, can you imagine the effect it could have on our face-to-face relationships? Not to mention the influence it could have on attracting younger stylists to the industry, supporting those struggling to stay afloat and those looking to make it to the next level."
RELATED: Sam Villa Creates Square Shag 
Villa is no stranger to awards, having received the North American Hairstyling Awards Lifetime Achievement Award in 2017. He is also global artistic ambassador for Redken and retails a bevy of high-quality, ergonomic cutting and styling tools, available on samvilla.com. All of this is in addition to the educational events he and his team create—all for free. After all, as Villa often says, "Sharing is the greatest gift we can give one another. To help each other grow and prosper, we all need to pay it forward."