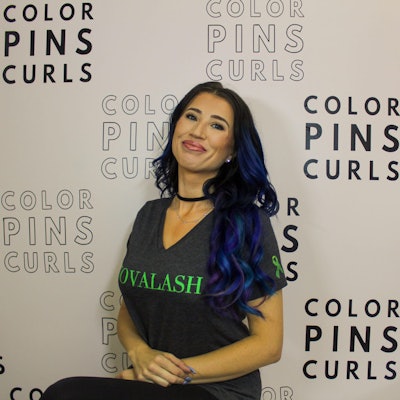 NovaLash announced that Jessica Baird (@colorpisncurls) has been named Brand Ambassador Coach. The new position will lead NovaLash's 2020 Brand Ambassador team to higher achievements by having a go-to person to educate this elite lash team on social media, branding and marketing strategies within the beauty industry. 
"Jessica has continually stood out with her honest dedication to the eyelash community," says NovaLash founder, Sophy Merszei. "With her passion for inspiring and educating others, coupled with her extensive technical knowledge of the NovaLash brand, we knew that she would be a great addition to our team. We are looking forward to what Jessica and the new Brand Ambassador team will accomplish in 2020."
Jessica Baird started in the beauty industry in 2011. After building a successful hair career, Baird decided to try something new by selecting to train with NovaLash Eyelash Extensions due to their scientific approach to lashes. Quickly realizing this was her calling she started Color Pins Curls: Lash Blog to share her passion of lashing and educating the world about the quickly evolving lash category. 
"I am thrilled and excited to be working with NovaLash, the most award-winning lash company, with such a professional and elite group of lash artists," says Baird. "We have many programs in the works which I cannot wait to implement."
As Brand Ambassador Coach, Baird will be facilitating the NovaLash Brand team to increase their visibility and credibility as lash leaders. Baird will lend her professional experience to this group as NovaLash continues to lead the lash industry for the 16th year. Marketing specialist Lauren Cuevo says, "With Jessica's experience, she can lead our Brand Ambassador team to higher success. Her knowledge of the brand is extraordinary and this group requires ongoing communication that she can provide."
NovaLash will announce the 2020 Brand Ambassador team in February on NovaLash.com and all social media platforms.