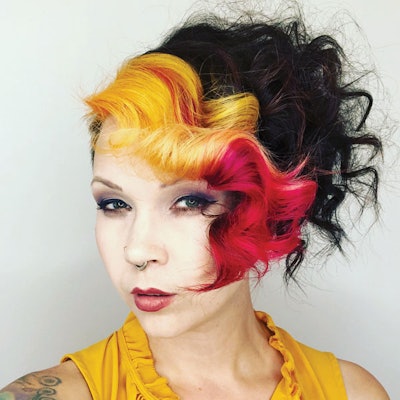 I've spent more than 600 hours in a tattoo chair, so deciding which tattoos I wanted to focus on for this story was a bit difficult. I have an incredible portrait of performer Lady Gaga, a sleeve full of Disney villains, a full back piece, and am currently in the process of covering the scars that cancer left me; these scars cover my entire abdomen and under my breast area, as I dealt with 12 pounds of ovarian cancer growth along with breast cancer.
RELATED: Maggie May Hancock's Take-Charge Attitude is Reflected in Her Body Art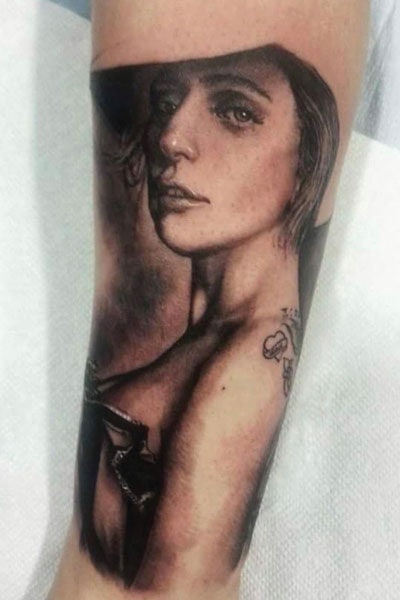 I decided to get the Lady Gaga portrait because she really embodies feminine power, equality and self-acceptance. And while I love all my tattoos, my favorite by far is my Ron Burgundy [from the movie Anchorman] illustration. I'm a U.S. Army veteran and lived in San Diego for years. In addition, Will Ferrell movies helped me through chemotherapy; hence, I always wanted to get a "You Stay Classy! San Diego" tattoo on the inside of my arm so that when I saluted in short-sleeved uniforms, the officer could get a peek of my ink. Now, I use it to barter at the bar: "I'll show you the most epic tattoo you'll ever see and, if you agree, I get two free drinks." Bartenders go for it every time, and I always get two drinks on the house.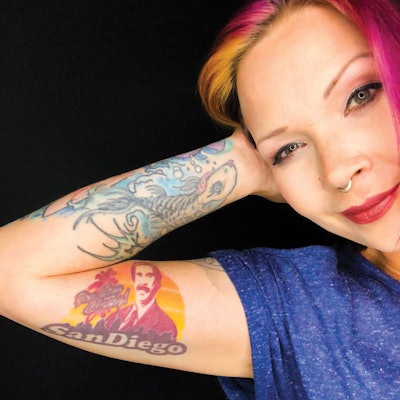 Be sure to follow Jessica Warburton on Instagram! 
– As told to Alyson Osterman-Kerr
[Images: Courtesy of Jessica Warburton; Frank Duarte]
This story first appeared in the September issue of Beauty Launchpad magazine. To receive the magazine, click here to subscribe.