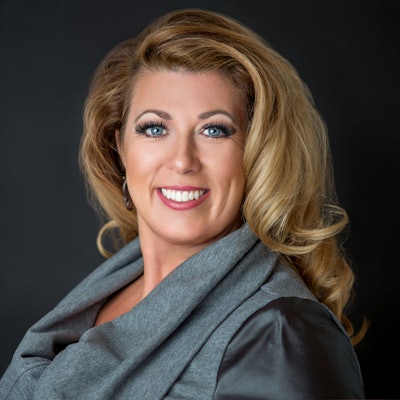 From lash artist to salon owner to franchise builder, Lume' Lash Brow Beauty CEO Michelle Nelson has found success by putting clients first.
Naples, located on the shores of the Gulf of Mexico in southwest Florida, is home to high-end shops and golf courses, as well as a sizeable population of seasonal residents (i.e., those who come down from the north during the winter months to find respite from the cold). Master lash technician and 18-year industry veteran Michelle Nelson discovered that many of her seasonal clients struggled to find reliable lash services in the off months. "Many clients had to remove their extensions or they came back with severely damaged lashes," she laments. That's when Nelson had a light-bulb moment: There was a significant lack of high-quality services that encompassed all beauty needs in many cities across the country, and so the Lume' Lash Brow Beauty franchise model was born. Together with her business partner and husband, Tom, Nelson is setting the bar high for a new standard in lash and brow services.
Modeled after her own successful Lume' Lash salon, Nelson's franchise is essentially a "business in a box," allowing franchisees the ability to hit the ground running with a salon plan that's been tested and proven effective. Of course, the original Lume' didn't start this way. Nelson began with one room and two lash technicians, offering lash extension services only. "Now we occupy 2,250 square feet, have seven lash technicians, two receptionists, two treatments rooms, and a retail and reception area. We've grown to over 3,000 clients in less than three years thanks to referrals, and we stand behind our work 24/7," she enthuses. The secret to her success? Offering superior services and products, and caring for her staff as much as the clients. "We developed our business to revolve around the beauty needs of our clients, focusing on lash extension-friendly services," she says. For instance, the Lume' facial and makeup lines are specifically formulated to work in conjunction with extensions, and Nelson has developed an allergy protocol that has proved successful for almost all of her allergy-prone clients.
RELATED: Six Things Every Salon Owner Should Do to Achieve Mindfulness
When it comes to the staff, they are pillars in Lume's success—therefore, nurturing them is a priority for the company. Lume' staff reap the benefits of being trained by Nelson in lash extensions, microblading, microneedling, waxing and lash-friendly facials, while franchise owners receive free continuing education through an online video library of techniques. "We want to make sure that lash technicians are paid a handsome amount," says Lume' COO Tom Nelson. The goal is to motivate technicians to be at the top of their game, which ensures long-term success.
And while Lume' has been named Best of Collier county in Gulfshore Life magazine (after only six months in business to boot) and has more than 30 five-star reviews on Yelp, Nelson continues to strive for more, working to dispel negative press that has surfaced about extension services by offering her technicians constant feedback and support. Ultimately, says Nelson, "Our success if defined by our franchisee's success and happiness."
Success Secret
RELATED: Educate Your Clients on the Importance of Proper Care for Irritated Eyelids
Long-term success comes from taking care of your most valuable assets; for Lume' it's their customers and staff. "We offer a tiered price structure so that we hit all levels of client income," says Nelson, making services attainable for everyone. They also give their employees the opportunity to grow with the company. "This keeps a goal-oriented structure to ensure a strong team."
Primo Products
Lume' is known as much for its high- quality Volume lash extensions as it is for its highly trained technicians. "They dominate isolation and hand-make lash fans that will never cause damage to the clients' own lashes," says Nelson. "We never have clients who need to take a break to regrow their own lashes; that's simply unacceptable in this industry."
[Image: Courtesy of Lume' Lash Brow Beauty]