These star stylists are not only at the top of their game, but also passionate about sharing tress tips and techniques with fellow hair aficionados— all atributes that make them stellar recruits for the newly formed Beauty Launchpad education team. You might catch them creating unique content in conjunction with our editorial crew or participating in campaigns by testing new products and posting feedback on their social media sites. By giving these trendsetters a platform, we hope to empower them to reach a wider audience. "We formed this team because education is the lifeblood of the professional beauty industry," says Alyson Osterman-Kerr, executive editor for Beauty Launchpad. "To stop learning is to remain stagnant in both creativity and careers; that's why we've tapped these innovative educators to facilitate higher learning that will be ongoing and broadcast through both our digital and print platforms." From beginning to advanced instruction, theirs are the voices worth hearing today. Meet our education team.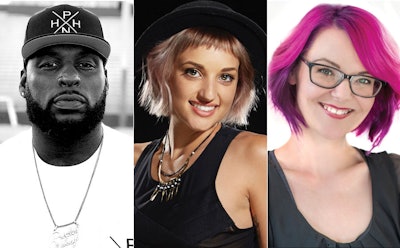 John Mosley: Popular Grooming Lounge in Mansfield, Texas.
Why we chose him: In 2018 alone, the pro taught more than 250 courses around the country.
Why he's psyched to join: "Our industry is hungry for education, and I love to relay my passion for barbering and men's grooming."
Education offerings: "Elements" program is designed to help pros grow in all areas of beauty, including barbering and business. Hands-on training delves deeper into marketing and branding.
Kelsey Deuel: Lux Hair Studio in Mooresville, North Carolina.
Why we chose her: Top colorist with in- depth knowledge of formulations and how to break them down for best results.
Why she's psyched to join: "I experiment constantly with fresh trends and love sharing my insight, inspiring stylists stuck in ruts to get out of their boxes."
Educational offerings: "Trillion Tones," debuting this spring, provides hybrid color- line instruction for amplifying services to set stylists apart.
Bridget House: EmBee Hair Space in Dayton, Washington; Studio A Walla Walla in Walla Walla, Washington.
Why we chose her: Member of the unique team dubbed "The Goonies" roves the country along with 24 other stylists and barbers, bringing nonbranded education to all.
Why she's psyched to join: "My style of humor and down-to-earth, unconventional approach to hair are what I'm most excited to share.
Educational offerings: Intense three-day Goonies gatherings held (max) twice yearly for up to 75 attendees have built lifelong friendships while lending valuable instruction.
RELATED: Beauty Launchpad Education Team Members Weigh In on Scrunchies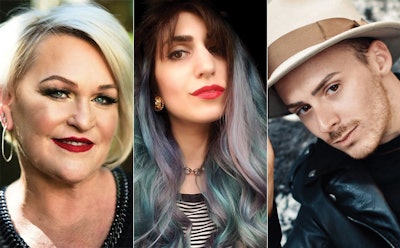 Cherry Petenbrink: Salon Republic in Beverly Hills, California.
Why we chose her: Seasoned hair veteran with more than 36 years' industry experience ranging from work on blockbuster films (hello, The Hunger Games!) to international seminars.
Why she's psyched to join: "I owned a mega salon with 31 employees and worked with Joico and Olivia Garden as a guest artist for two decades, so this is the ideal outlet for me to elevate, inspire and share what I've learned."
Educational offerings: "Blonding and Beyond," "Dynamic Dimension" and "Femme Fatale" (read: superhero hair) are some scheduled offerings comprising this year's multicity education tour.
Erin Hriczak: Lighten Up Hair Salon & Spa in Budd Lake, New Jersey.
Why we chose her: Pulp Riot indie educator with a knack for vivids.
Why she's psyched to join: "As an artist, I'm constantly seeking and absorbing inspiration; I love to collaborate with our professional community to give some of it back."
Educational offerings: Eight "Naturally Unnatural" classes imbue stylists with the confidence needed to craft creative hues using permanent lines.
Joshua Ladner: Salon J Ladner in Dayton, Ohio.
Why we chose him: Rebel with a beauty cause serves as inspiration to the younger generation of hair artists.
Why he's psyched to join: "I aim to share knowledge and guidance on achieving the most productive career possible by leading with passion and love."
Educational offerings: "Unicorn Magic Hair Tour" now galloping across the States, including a May 19th stop at Connecticut's Network Salon, with a "Brace for Impact" class focused on wet balayage and blonding.
RELATED: Top Predictions and Techniques for Summer Music Festival-goers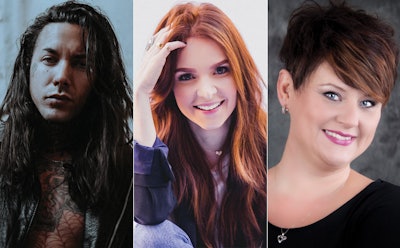 Luis Chevere: Hair Chevere Cutting Lounge in San Antonio, Texas.
Why we chose him: "Modern Crop" expert specializes in advanced texturizing techniques not often used on short chops.
Why he's psyched to join: "When it comes to fading and texturizing, I believe we can introduce stylists to novel concepts that will elevate crafts to higher levels."
Educational offerings: Instruction focuses on visualization of fading, making it easier for stylists to keep track of their guide so as to avoid confusion while shaping.
Becca Henderson: Rebecca Michelle Studio in Gilbert, Arizona.
Why we chose her: Natural redhead who grew up battling hair insecurity now helps clients find confidence by embracing their unique beauty.
Why she's psyched to join: "I always post daily hair inspirations because I personally know how feeling good about oneself can change a life."
Educational offerings: This spring, check out "The Root," a series of free video tutorials covering everything from foolproof balayage to at-home updos to curating a visually stunning Instagram feed.
Missy Peterson: Malibu C Academy in Indianapolis.
Why we chose her: Malibu C global creative director and master stylist specializes in corrective color.
Why she's psyched to join: "I totally nerd-out on passing along information because education is one thing you can have that sets you apart."
Educational offerings: Everyone can learn techniques; not everyone understands the how or why. Back- to-basics courses go as deep as questioning, "What's hiding in your water?"
RELATED: 5 Hot Styles Straight from the 2019 Spring/Summer Runways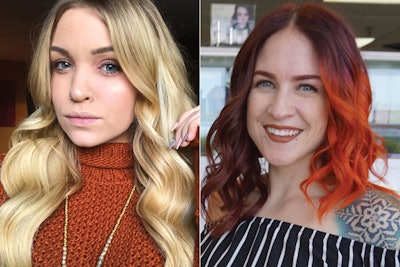 Aly Davis: R Cribb the Salon in Myrtle Beach, South Carolina.
Why we chose her: Color and extensions specialist who believes in community over competition.
Why she's psyched to join: "My goal is to promote a positive mind-set and lifestyle, while sharing the awesome learning opportunities our industry provides."
Educational offerings: Double-hitter hand-painting and social media course offered this June will cover basic coloring techniques, plus online branding, marketing and photo tips.
Roni Ryan: Simbiotica Hair House in Woodland Hills, California.
Why we chose her: Blonding authority who gets results without sacrificing hair health.
Why she's psyched to join: "I'm passionate about hair, education and people. Staying ahead of top trends keeps me and my clients inspired, which makes this industry fun and exciting."
Educational offerings: "Better, Brighter, Blonde" focuses on knowing when to use the proper level of developer, plus how to achieve lighter sections and still maintain strand strength.
New educators are being added continuously, so keep your eyes peeled for more!
This story first appeared in the April issue of Beauty Launchpad magazine. To receive the magazine, click here to subscribe.
[Images: Getty Images; Instagram]