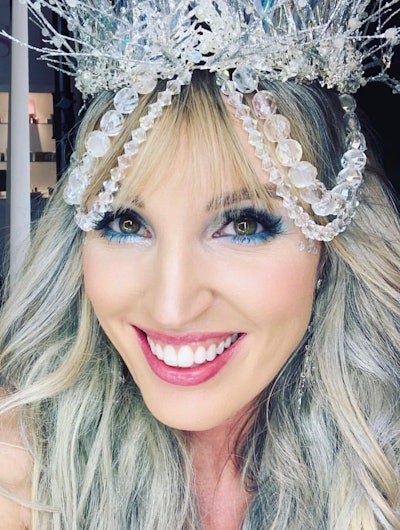 Raylene Cravens, Owner of Lash By Lash Salon in Nichols Hills, Oklahoma, was just named 2019's NovaLash Lash Artist of the Year. We caught up with the trainer and NovaLash Brand Ambassador to ask her what the experience has been like so far and what advice she has for others wanting to enter next year's contest. 
What motivated you to enter NovaLash Lash Off? Was this your first time? 
I really wanted a platform to inspire others like the winners before me have done. I entered for the first time last year, and I was a semifinalist. That really motivated me to go for it this year, to push myself more and make my work stand out. 
How did you feel when you were named a finalist?
I found out I was a finalist when I was on my way to a NovaLash training class.  When I arrived I just cried with joy! This has been a career dream of mine. I felt like I had truly arrived. I am so humbled and honored they picked me.  
Tell us about your winning entry.
I really wanted to demonstrate that NovaLash wasn't seasonal, so I chose interpret all four seasons. Also I wanted to share my journey and show my creative vision with the making of all of the headpieces. 
What was it like to be at LASHoff? Did you think you would win?
Being at LASHoff is amazing—you're with the best lash artists who share the same passion. It's magical. Everyone was so beautiful, inside and out. We really support each other. It's everything I dreamed it would be. Honestly, I felt I already won by being one of the finalists. Everyone is so talented, especially at that level, but I thought I did have a pretty good chance! I put everything I had in it. 
What are you most excited about having won? 
Being able to reach more people and share my knowledge and to inspire people to believe in themselves. Also the traveling and meeting new people is a great perk as well! 
What do you love most about your job and this industry?
I love helping people feel more confident. When I hand someone the mirror after I'm done with their application, seeing their face is priceless! I love being in the lash industry because it takes a special skill and I love challenging things. I think what we do is fine art. 
What advice would you give to other lash artists who may be considering entering Lash Off next year?
Make sure your passion shows through. Get a support team; it's so helpful. Make sure your photos and videos have great lighting. Have a fantastic professional image and, most of all, have a social media presence. 
Why do you love NovaLash?
NovaLash has the science behind the product. It's the leader in the lash industry with the safest products and it delivers long-lasting results. And, of course, the education, support and mentoring is top-notch! It really is NovaLash or Nothing with me.