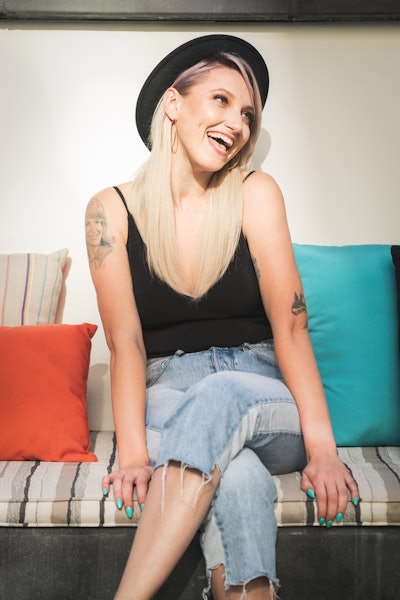 The Deets: Given her rise to fame, it's hard to imagine that Gina Atkinson (@ginaatkinson) is only 28 years old. She's a proud member of the @GuyTang #mydentity team and works out of a suite in Salon Republic in West Hollywood, California. Her specialties include pastels, blondes and silvers on mostly Asian hair. 
I became a colorist because: Hairy's, a salon in a little town in the middle of Missouri that I went to through high school and college, did it for me. It was always less about the hair and more about the feeling it gave me; I never felt better than when I left the salon. I guess I just wanted to make others feel that way, too.
My goals: Rather than having a specific goal, I keep my goals very broad: Be better everyday, help others, learn from my mistakes and be happy—things kind of just fall into place organically. I think we get caught up trying to reach our goals or manifesting that we forget about how great the middle is and to live in the now. The journey is more important than the destination. 
My proudest accomplishments: Being a part of the #Mydentity team and traveling and educating about a line I truly love.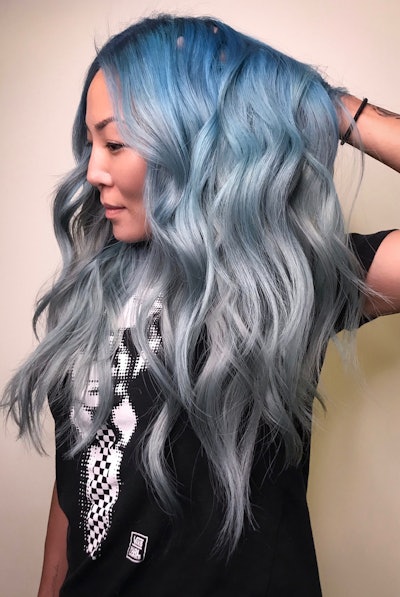 I love being a colorist because: I really enjoy the meticulousness of the whole process. Taking what appears like a thousand tiny little sections in a never-ending color transformation is like running a marathon because it can be quite daunting during the process but, when I reach the finish, it's an amazing feeling. 
I look up to: Guy Tang. Not for just his undeniable talent and incredible attention to detail or the amazing color line he created, but for his openness: He has always shared all of his techniques and formulas, never hiding his secrets, and isn't motivated by just a paycheck; he genuinely cares about the industry and helping everyone grow and learn. He has inspired me not to want to be "the next Guy Tang" but, rather, the best version of myself! 
My best color tip: Tone on dry hair; you get to really see the full pigment of the color and your clients will have much more longevity. It's an extra step and makes the process a bit longer but it's so worth it!