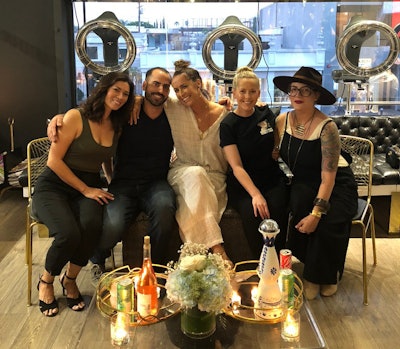 Joey Perrotti grew up in his mother's salon in New Jersey, so pursuing a dream in hairdressing was a total no brainer. After attending beauty school in his home state, Joey went on to assist in the coloring departments of various salons in New York City, including the renowned Ted Gibson salon, then continued his education incutting and styling by studying at the Vidal Sassoon school in San Francisco.
But Perrotti's dream lay a few hours south at Nine Zero One Salon in Los Angeles. After applying to the original location five times, the chance of a lifetime came knocking in 2015 when he landed an interview and became the salon's newest assistant.
"It's been my dream to work here, because it's the only salon at this level that operates in this way, by specializing in everything rather than one aspect of hair artistry," Perrotti said. "It allows for a unique experience where I can put everything together rather than doing the coloring and passing the client along to another stylist for the cut."
The process of becoming a stylist at Nine Zero One starts with assisting each stylist at the salon on a rotating schedule. Perrotti had assisted three of the senior stylists before co-owner Riawna Capri pulled him as her own assistant. After seeing the growth in Perrotti's skill levels with clientele and staff, Capri and co-owner Nikki Lee decided it was time to put his artistry to the test with a soiree.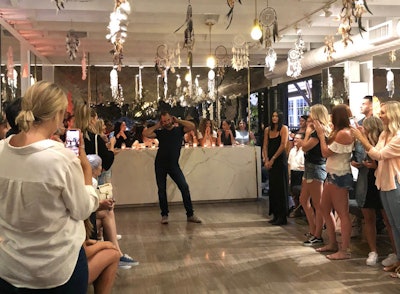 The Nine Zero One Soiree acts as both a test and a showcase for an up-and-coming stylist's work. The requirements for the night included the following:
Short women's cut
Men's cut
Layered cut,
Coloring a blonde
Coloring a brunette
Coloring a redhead 
Creative coloring
Nine Zero One signature highlight
Upstyling long hair (creative or red carpet)
Styling (creative or red carpet)
It was a full-day affair. After he'd been setting up for three hours, Perrotti's models joined at 1 p.m to get their previously-cut-and-colored locks blown out and styled. After the night began, the models hit the runway while a group of various stylists, including owners Capri and Lee, critiqued the work, comparing the "before" photos to the live models.
After evaluating the work, the group came together with Perrotti to discuss their overall feelings and announce the results of the night. He passed with flying colors and proved he can handle anything that walks through the doors of Nine Zero One.
"It is everything I've dreamed and more," Perrotti said. "I can't believe all the positive feedback and opportunities that I've been given through Nikki, Riawna and Nine Zero One. Everything is continuing to grow."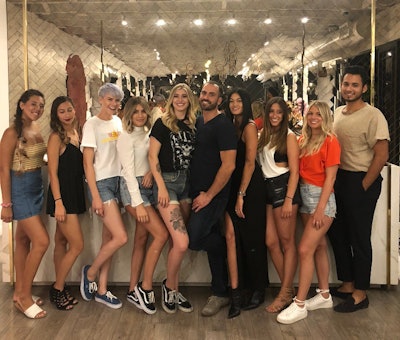 [Images: Courtesy of Nine Zero One Salon]