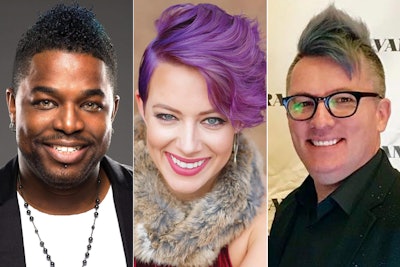 Just a few instructors are the ones responsible for training Pravana's team of more than 100 artistic educators around the world. "These mane masters have demonstrated exceptional skills and knowledge about both beauty and our brand," notes Marcie Owsinski, education manager. Meet three of their top artistic regional educators.
1) Name: Tim "Bo" Mack.
Training: Coastal Bend College in Beeville, Texas.
Journey: I first approached a Pravana sales team member during a salon visit, then submitted my audition video, portfolio and letters of recommendation. After months of waiting, I got my official invitation to participate in training. The process was intense, but I've never stopped working hard. Last year I had the honor of being named the 2017 Educator of the Year.
Role: By helping to create courses for each season, I get to stand on a huge platform and share my love of education and hair.
Top Challenge: Accepting challenges as discoveries, rather than failures.
RELATED: ​PRAVANA Launches VIVIDS Everlasting
Favorite Course: Introduction to ChromaSilk. Recently licensed grads who want to deep-dive into color theory gain in-depth knowledge of color formulation scenarios plus our bestselling Chroma line.
2) Name: Meg B. White (@megbwhitesalon)
Training: Booker Institute-Cosmetology in Holland, Michigan.
Journey: I've wanted to be in beauty since I learned how to braid my horses' hair at age 11. I stalked Pravana educators at shows until they finally called me about a position in the Atlanta market.
Role: I get to think outside the box and be creative when it comes to in-salon education. Interacting with our full global team during trainings is inspiring.
Top Challenge: Conceptualizing an effective mentorship program for new educators, and helping them find their unique voice at Pravana.
RELATED: How to Get the Look - Ice Cream Hair by Pravana's Meg White
Favorite Course: Blonding. Regardless of the tress trend you wish to achieve, it typically starts with lightening hair in a healthy, efficient matter. If strands get damaged, results aren't worth it.
3) Name: Stacy Brown (@stacybrowndoeshair)
Training: Paul Mitchell the School in Atlanta.
Journey: I met fellow trainer Meg White at a party, and we became instant friends. She's the one who steered me toward Pravana.
Role: I love meeting new people from around the world and learning about their hot hair trends. This year I had the opportunity to teach hires from Australia, Denmark, Norway, Romania and Sweden—to name just a few countries.
Top Challenge: Balancing different students' learning needs. We excel in various ways, so it's important to adjust my help so that all in class feel lifted.
Favorite Course: Mastering ChromaSilk. Advanced color theory is important so that stylists can take skills to the next level.
Need to Know
Where: Starting in 2019, courses will be held at the Henkel #AcademyofHair in Culver City, California.
Classes offered at SalonCentric and State Beauty Supply/ RDA Pro Mart stores around the country.
Free in-salon training, available by meeting quarterly purchase requirements through local distributors.
How
Information at pravanaconnect.com, the professionals-only website
Dates, times and locations for in-store classes on the SalonCentric app, or by contacting local state/RDA stores
[Images: Courtesy of Pravana; Instagram]