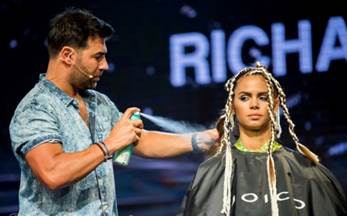 Richard Mannah, award-winning stylist and fashion week mainstay, has joined forces with Joico as International Guest Artistic Director. Mannah will be representing the brand and leveraging his vast educational background and ability to work with commercial trends as one of the brand's leads in core education and training development. As a stylist and cutter who also has a core understanding of color palettes, Mannah is perfectly suited to help evolve Joico's education and training curriculums. 
"I'm so excited to join the Joico family as International Guest Artistic Director," says Mannah. "I have had the privilege of working with the brand on international shows, photo shoots, step-by-step videos and much more the past 14 months, and I absolutely love working with the team and what the brand stands for. It's the healthy hair company, which believes in education, innovation, team-building, creativity and global growth. All these things are close to my heart and I am so excited to be part of this respected global brand! The best is yet to come."
RELATED: Larisa Love Joins Joico as Brand Ambassador
Mannah boasts more than 25 years' experience in the hair industry, which includes a leadership role at TONI&GUY London and spans three continents. In 2011, he received the British Hairdressing Award for London Hairdresser of the Year, and has long been a member of the Australian F.A.M.E. Team for the Fellowship for British Hairdressing. Additionally, he has worked backstage at New York and London Fashion Week shows for designers such as Vivienne Westwood, Tommy Hilfiger and Vera Wang. 
As International Guest Artistic Director, Manna will serve as a brand spokesperson and create video content and how-to education to help bolster Joico's digital education across the globe. Additionally, he will attend major shows and events, assist in product development and testing, curate trend content and forecasting and develop editorial work. 
"Richard's presentation at Joico Global Destination Education in January really showed us why we wanted him on our team," says Valerie Robinett, Senior Director, Communications and Digital Marketing for Joico. "His was one of the most talked-about seminars in a week packed with top-notch education. But it was his way of teaching and relating to his audience that really engaged everyone—not just professionally, but on a personal level too."
Sara Jones, Senior VP and General Manager, Joico, echoes Robinett's sentiments, saying, "Bringing Richard on board, with his strength in educating, continues our commitment of support to the salon community. Richard is relatable, approachable and full of fresh ideas. We couldn't be happier to have him in a leadership role in our education and artistic team."