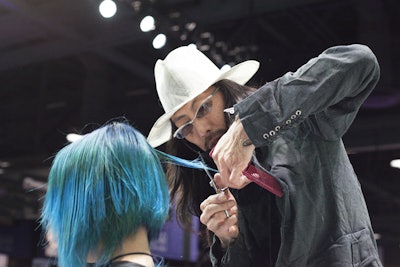 Cutting mastermind Takashi Kitamura dishes on leaps of faith, key career influencers, and being a Rusk platform artist.
Takashi Kitamura is famed for the pure poetry of his onstage cutting and styling, but his hair-biz ascendance required taking some massive chances. True, he was born to a hairdresser mother in Japan, practically growing up in the salon and pitching in by sweeping hair, so his calling was clear: cosmetology school at 17 followed by in-salon training. But he wanted more. "Watching my mother inspired me to get into the hair industry, but then I worked with a fellow hairstylist and friend who always talked about becoming well-known, teaching and traveling the world," Kitamura recalls. "Through his motivation, I was inspired to do the same. When he decided to move to Tokyo to chase his dream, I knew at that moment I wanted to move to America to pursue my dreams."
RELATED: Hair Trends - RUSK Tackles Bold, Vibrant Color with New Hair Color Line
Kitamura hightailed it to Santa Monica, CA, to attend Sassoon Academy and never looked back—or stopped moving. For the last 20-plus years, he's juggled traveling the globe as a platform artist while working behind the scenes on video and photo shoots. And recently, he took another career leap by joining Rusk's team of platform artists. "As a young hairdresser, I always liked Rusk for its unique style and eye-catching creativity," Kitamura explains. "And when I found out that Luis Alvarez had joined Conair, I knew I wanted to be a part of his incredible vision and inspiring talent."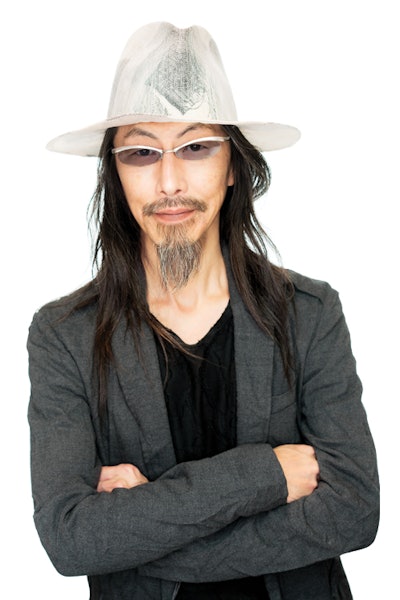 A cutting virtuoso who has been lauded as a scissor magician, Kitamura also professes his love for Rusk shears, with metal construction that "cuts wet and dry hair like butter" and a design that maximizes efficiency, effectiveness and comfort. Says Kitamura, "Through the many years of experience I've gained through being a platform artist and sharing my knowledge as a hairdresser, I look forward to bringing something new to Rusk—and plan on many years of commitment to create a powerful team."
Kitamura's Musings
Memorable Mentors: My mother, who inspired me to get into the hair industry. I had the opportunity to work for Fuji Aburaya, an amazing haircutter and hairdresser—still one of the best I've ever seen. And Vidal Sassoon.
Greatest Strengths: Haircutting and styling.
Weakness: Updos—too much pressure!
[Images: top courtesy of Patrick Miller; bottom courtesy of Luis Alverez]