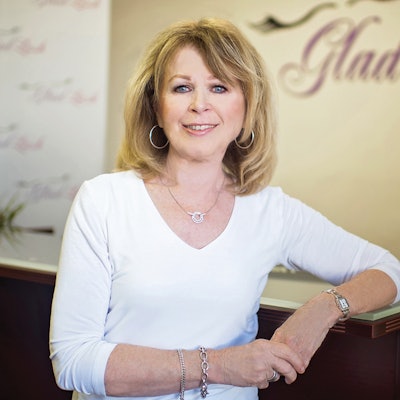 With over 30 years in the business, Glad Lash not only offers a wealth of experience and time-tested products, but also champions both artist and industry growth. 
Once her children started elementary school, Glad Lash founder Esther Bolkin longed to venture from her homemaker role. "I wasn't raised to have a career but I wanted something more ... and was thrilled to find out I could go to beauty school [simultaneously] because I had a passion for beauty growing up," explains Bolkin, who in 1981 dove in headfirst, single-handedly lashing every volunteer model who walked through her school's doors. "We only had a 15-minute lesson on [flare] lashes so everyone else in the class was afraid to do them," she recalls. "But I innately had fine hand-eye coordination and loved working with small instruments ... [these were skills I learned] working at my father's jewelry business."
RELATED: Readers Choice Awards 2017 - Lashes & Brows
Another lesson Bolkin took from the family trade: her knack for business savvy. After only two years of lashing professionally, when the opportunity to become a supplier came knocking, Bolkin jumped. "I was young and game for anything!" she says of her acquisition, a company—known today as Glad Lash—that she says had the highest-quality flare lashes and glue on the market. With secret formulas and a hefty client rolodex in tow, Bolkin hit the trade shows running, but always kept her eye on the prize: the ever-changing lash industry and, more broadly, the world. Securing the domain name "eyelashextensions.com" in the early '90s and becoming one of the pioneers to manufacture and bring Asia's single-strand lash trend to the U.S. in the early aughts thrust Bolkin into the spotlight, propelling her to live up to her newly minted "expert" status. "I was determined to learn and practice the new technique and sell the products," says Bolkin. "I threw out a lot of money for garbage and made mistakes in the beginning but, little by little, my products kept improving."
In 2009, demand prompted Bolkin to take her one-woman shop global, so she brought her technologically savvy son-in-law, Brian Greene, on board as managing director to help build a proper website. "We realized we could reach more people in one day online than going to any trade show could ever do," she says. This move made buying in volume and passing on the savings to Glad Lash customers possible, enticing would-be artists to join the industry. "Estheticians could [now] afford to get into the business and make a [lucrative career] for themselves," says Bolkin.
RELATED: 5 Reasons Why Lash Artists Should Attend Trade Shows
With a massive catalog of professional and consumer products (Glad Lash launched non-pro brand GladGirl in 2016) that includes lash and brow extensions, maintenance tools, extension-friendly makeup and aftercare; a slew of marketing tools for pros; and a training academy that caters to both aspiring artists and trainers, Glad Lash helps artists thrive in every aspect of their businesses. Additional top priorities: listening to artists' feedback, responding to every call, troubleshooting and shining a light
on the industry that Glad Lash calls home. (In coordination with Glamcor, Glad Lash put out an exhaustive survey in 2017 about all things lashes.) In the end, "[lash artists] feel like they have a true partner in us and that we have their back," says Greene.
Success Secret 
"I look at [the business] like a stool with three legs," says Greene. "We have to focus on quality product, [affordable] pricing and customer service all the time because if you take away one of those [legs], the stool falls over."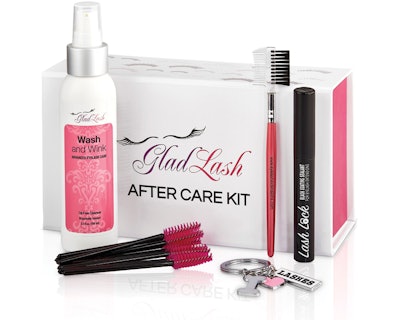 Primo Product 
Pros pine for the Glad Lash Signature and Salon Professional extensions as well as the quick-curing Volume Plus and 5 Star adhesives while the After Care Kit helps boost retail sales.
[Images: Courtesy of Glad Lash]