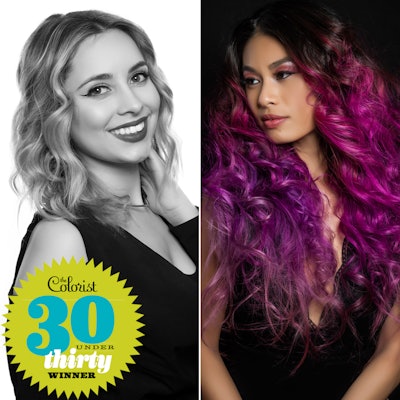 Every year, we honor 30 young colorists under 30 to find out what makes them so talented and successful. Get to know 2017 honoree Veronica Inness in our interview with her:
Name: Veronica Inness
Age: 23
Salon/company name; location: BlondlyVIVID, Coral Gables, FL
Title: Co-Owner & Hairstylist
Instagram: @veronicainness
Primary color line used: Celeb Luxury
Beauty school/location: Sunstate Academy, Fort Myers, FL
Tell me a little bit about yourself?
One thing I always tell my clients and friends is "I hate being home." I'm adventurous, passionate and motivated not only within my career, but also in my day-to-day life. I prefer to be out doing something new and living life, which is actually where I draw a lot of my inspiration. 
What inspired you to become a colorist?
I've always wanted to help people in any way I could. With color, I can completely change someone's day. It can inspire them to get that new job or go out on that hot date and truly give them confidence. It's more than just adding some balayage. 
What are your goals?
Throughout my career I would like to become an educator, role model and artistic inspiration for others. I love to share my techniques and thoughts with others, and I would love to inspire any other artists to create the extraordinary. I don't want to be someone subtle and quiet; I want to be on stage showing my industry what I know and how to be even better. 
Any accomplishments so far in your career that you're particularly proud of?
In 2016, I was awarded bronze medal for Goldwell's ColorZoom competition. It was actually the first time I ever entered a color competition and the first time I could actually create what I had in my head. Then shortly after I was offered the Colorbrain Artist opportunity from Celeb Luxury and it brought my career to another level. Now with them I've been able to enhance every color process to something even more incredible. 
What are your hair color specialties?
Im extremely passionate about fantasy colors and complete color transformations. Anything from pink to silver or even both together on the same head, to color corrections of all tones, really gets me excited. 
What do you love most about being a colorist?
I don't know how to draw, so the inspiration I gain from the outside world I like to infuse within hair. It's my own canvas, and it's a challenge, but every second of it is worth it. 
Who would you consider to be your mentors/role models, and why?
A few years ago, I read an article on Sacha Mascolo-Tarbuck, and my jaw dropped. She has done everything and then some within our industry and she's a true powerhouse on every level. I look up to her because she shows no matter what age you are you can accomplish the unimaginable. It's truly inspiring to see her accomplishments and her artistic designs. I tend to read about her every so often and every time I feel uplifted. She's truly a role model for myself and my career. 
Please share a hair color, prep or color care tip:
My latest and greatest tip I use on a daily basis is Celeb Luxury Colorwash and Colorditioner. They're perfect for a quick tone correction or even enhancement. Also, now with the built-in BondFix in the Colorditioner, I can let my clients get a great tone and treatment at the same time.
What is your favorite color trend/technique of the moment?
One of my favorite techniques I actually learned not to long ago is double processing almost all of my clients and giving that perfect root. A lot of my clients are Latin and tend to have extremely dark harsh roots. Lifting out the color and putting on a neutral or ash base really changes the entire look of my clients.