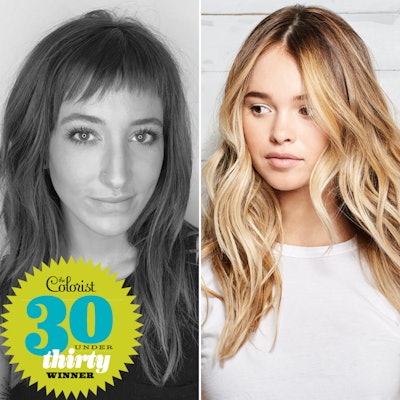 Every year, we honor 30 young colorists under 30 to find out what makes them so talented and successful. Get to know 2017 honoree Olivia Filippi in our interview with her:
Name: Olivia Filippi
Age: 25
Salon/company name; location: Sereni Salon & Spa. Hudson MA
Instagram: @olivepalmira
Primary color line used: Aveda
Beauty school/location: Aveda Institute Orlando Florida
Tell me a little bit about yourself:
I was born and raised in New England. I started working at my mother's salon at age 12 and fell in love with the industry and lifestyle.
What inspired you to become a colorist?
I was always into art all through high school and used it as a way to express my feelings, a way channel negative energy and turn it into positive energy. Being a colorist now gives me that creative outlet. Free-hand painting is by far my favorite thing to do. Hair is my canvas.
What are your goals?
My fiancé and I plan to open an Aveda salon within the next three years in Boston. We want to bring a fresh perspective to the Aveda presence in the city.
Any accomplishments so far in your career that you're particularly proud of?
I am defiantly proud of winning Aveda Artist Instagram challenge and cutting onstage at the Boston Aveda jam.
What are your hair color specialties?
I specialize in balayage.
What do you love most about being a colorist?
I love being able to create depth and dimension to hair with free-hand painting. I like to be able to highlight people's facial features by adding brightness around their faces.
Who would you consider to be your mentors/role models, and why?
One of my role models is @chelseahaircutters because they have perfected the raw/natural balayage. They don't overdo it, and they allow people's natural beauty to shine through
Please share a hair color, prep or color care tip:
My color tip would be to use a paintbrush while doing a balayage instead of a color brush. The lightener goes on much smoother and the blend will be better.
What is your favorite color trend/technique of the moment:
My favorite is still a raw and natural-looking balayage. I feel like it is a trend that will stay and people will always come back to it. The simplicity of enhancing natural-looking hair color is something people will want at any age.