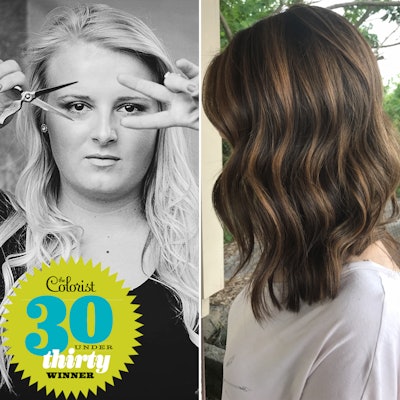 Every year, we honor 30 young colorists under 30 to find out what makes them so talented and successful. Get to know 2017 honoree Melanie Pruett in our interview with her:
Name: Melanie Pruett
Age: 25
Title: Master PRORITUALS Colorist & Educator
Instagram: @mstylistp
Color line used: PRORITUALS
Beauty school/location: Genesis Career College in Dalton, Georgia 
Tell me about yourself:
I am originally from Manning, Iowa, where I grew up on a farm. I am a third-generation hairdresser. I spent most of my childhood in my grandmother's salon where I developed passion for this industry at a young age. I moved to Georgia when I was 12 years old and have resided in Calhoun ever since. I got my first hands-on experience in cosmetology when I was 19 years old attending beauty school. After booth renting my first three years in business, I opened my first salon in September of 2016 at the age of 24 years old. I'm still continuing to grow and learn as a stylist and business owner in my studio. 
What inspired you to become a colorist?
Reflecting on my own experiences in the salon. I always loved seeing how pleased clients were after their services, and I wanted to be the person responsible for that happiness. I always strive to share my knowledge with my clients to assist in any color service I provide for them. I've always greatly enjoyed making other people happy. It's my job as a stylist to help each one of them create the best version of themselves with custom formulas catered to their wants and needs.
What are your goals?
A current goal that I want to achieve is to open a bigger salon. As an educator, I want to assemble a team of PRORITUALS colorists unlike anything in my area to provide the best salon experience imaginable.  
Any accomplishments so far in your career you're proud of?
A few achievements that I am particularly proud of are opening my own salon at such a young age, receiving the recognition for doing so in magazines and online publications. Last summer, I had the amazing opportunity of traveling to San Diego to work with Emmy award-winning stylists at an educator workshop hosted by Terrence Michael Renk. I also had the pleasure of working one on one with celebrity stylist, Sabrina Denebiem. 
What are your specialties?
My hair color specialty is blondes! I'm known locally for creating the most natural, beautiful and healthy-looking blondes. Another hair color service I specialize in is balayage—painted-hair looks and techniques. 
Who would you consider to be your mentors/role models, and why?
Mary Sailer, my grandmother, is a retired stylist who gave me my first feel of what it's like to be a hairstylist. She was basically the one who got me started rinsing out perms and shampooing at the tender age of five. Dodie Dean, formally known as Dodie Greeson, is another individual I will have to give credit to for being one of the best role models I've ever had in this industry. As a high school student not really knowing where I saw myself in the future, Dodie kept the hope very much alive for me that you can make an excellent living as a hairstylist. She always encouraged me to be the best and never settle for anything less. She made being a stylist fun for me, painting a picture of endless possibilities in the hair world.
Another mentor I can't be thankful enough for is my creative director for PRORITUALS, Douglas Martucci. He motivates me on a daily basis to push boundaries, break glass ceilings and discover beauty outside the world of conventional hair coloring. He is proof that rules can be broken, and he creates some of the most amazing color formulations I've ever laid eyes on! I can't wait to get my hands on the new line of Metallics he's helped create for our line! 
Please share a hair color, prep or color care tip:
One of my favorite tricks for hair coloring, is to mix in a teaspoon of ProRituals Spray Treat in with my toning formulations. Spray Treat is a protein filler and porosity equalizer that helps my color adhere effortlessly to my clients hair. This product helps my toners penetrate deeper within the cuticle for a longer lasting glaze.
What is your favorite color trend/technique of the moment?
Not to be cliché, but I'm definitely going to have to go with balayage and painted hair. I love that these trends are so popular. There is really no right or wrong way of doing them. I've seen and used countless techniques and as a stylist, you can use whatever techniques highlights your strengths. The outcome is so beautiful and natural and seamless. It's perfect and I hope it stays in for a while.